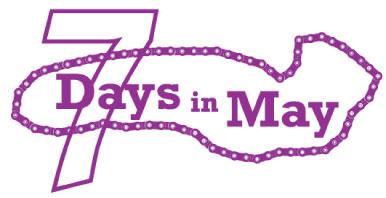 Lorraine Townley was diagnosed with Pancreatic Cancer in December 2009 at the age of 83. Throughout her two-year battle Lorraine remained a brave advocate for others afflicted with this aggressive form of cancer by participating in clinical trials. Her hope was to give young people diagnosed with pancreatic cancer a better chance of survival than she had. Lorraine lost her battle in November 2011.
7 Days In May is an annual cycling event hosted by the Townley Family in memory of Lorraine to continue her legacy by raising the awareness and funds necessary to cure pancreatic cancer. All proceeds will be directed towards clinical trials and other direct studies focused on early detection and a cure as well as providing support and education for those impacted by the disease.
To date, 7 Days In May has raised over $350,000.00 and has reached out out to hundreds of thousands of people worldwide to deliver their message of hope and determination to cure pancreatic cancer. Funds raised are donated to pancreatic cancer clinical trials research through the Canadian Clinical Trials Group (CCTG) operating out of Queen's University in Kingston, Ontario.
The ride has a variety of options including a single day ride, a weekend ride, and a seven day ride around Lake Ontario. The Townley Family's hope is to take this event to a national level and to get people active for a full seven days in May each year supporting those cycling around the Lake Ontario and to improve their own strength and fitness which is one of the best preventers of pancreatic cancer.
7 Days In May 2018 will take place from May 26th through June 1st. For more information go to: www.7daysinmay.com.
This Fund's granting purpose is subject to change at the request of the Donor Advisor.
To enable the Donor Advisor to properly recognize donors for their contributions, Toronto Foundation will share your contact information and donation amount with the Donor Advisor unless you have checked the anonymous box on the donation form.