Why learn with us in 2021?
Philanthropy is a going concern and an increasingly thoughtful pursuit. It's been here since the first peoples were the sole occupants of this land. Today, it embraces all of those who want to use their time, talent and treasure to make the world a better place. There is a solid track record of achievement and a growing community of experts and thought leaders. Community Foundations are one part of this evolving movement and they are uniquely positioned to advance philanthropic work and build community by giving and learning together.
At Toronto Foundation we believe in the power of philanthropy to make meaningful change for all. For us, this change is about contributing to a society where everyone belongs and has equal opportunity to thrive. These aren't just buzz words. We try to model this in how we grant and in how we partner with community. We don't have all the answers. But we know that they will come through the strength of our relationships. Philanthropy can be a powerful force for good but it can't work in isolation.
Over the past four years we have been building a learning program that brings donors together with comm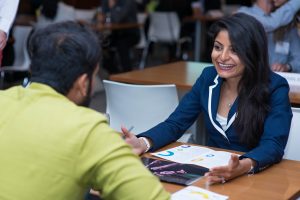 unity for shared learning. We partner with community leaders to bring current thinking and practice to our events, research and giving tools.
Whether you are a long-standing Fundholder or new to Toronto Foundation we welcome you to participate in any or all of our learning events that form the Class of 2021. And if joining is not your thing, please consider taking the time to:
subscribe to our e-newsletter, the Connection
follow us on social media and
read our Toronto's Vital Signs series of research reports
Your philanthropy matters. We hope we can help bring more meaning to your giving. Mostly, we want to make an impact together.
Toronto Today
Toronto is the income inequality capital of Canada. There's been a growing divide between those who benefit from wealth, and those whose prospects of financial security, health and wellbeing are bleak. Now add COVID-19 and these rifts are exacerbated with many of those who were already pushed to the margins of our society bearing the brunt of its impact.
Fundholders can give anywhere in Canada and we encourage all donors to follow their personal passions. But Toronto is our shared home. Through our learning program you will hear from leaders from communities across the city, and about the issues that are most pressing in our urban context. And if you want to learn more about life outside Toronto, our relationships with close to 200 community foundations across Canada make this easy. Get in touch with one of the members of the Fundholder Engagement team to find out more.
Our Learning Objectives
 The New Philanthropy
Join Toronto Foundation in redefining philanthropy in the urban context. Explore the collective and personal values that underpin effective and impactful charitable giving today. Embrace the importance of creating a philanthropic plan.
Help change the dynamic between philanthropy and community to be responsive not directive
Understand the nuances of power and privilege
Uncover your values and philanthropic principles
Learn about our commitment to Reconciliation
Become an ally
 The Philanthropic Landscape
Get grounded in the issues facing the sector, the needs, opportunities and stakeholders.
Understand the fundamentals of inequity in our city and the role of philanthropy in addressing it
Understand giving trends
Learn about the leading organizations driving change
 Granting 101
Learn about Toronto Foundation's approach to granting and how it can inform your own work.
Set goals aligned with your values and philanthropic principles and focused on the issue area(s) you care about
Give with an equity lens (by understanding the power of small & medium sized organizations and those that are led by the communities they serve)
Make unrestricted, multi-year gifts based on trust
Have collective impact by giving with others
 New Models for Impact
Get informed about the emerging approaches to impact that go beyond granting.
Understand the responsible investing landscape to inform what types of impact you want to make
Learning about Toronto Foundation's growing commitment to impact and responsible investing and how you can partner with us to go "beyond granting"
 Toronto Foundation as your Philanthropic Partner
Optimize the services, resources and opportunities at Toronto Foundation to inform, shape and direct your philanthropy.
Understand what TF does to support donors, the community and community organizations and how we can partner with you to plan and execute your philanthropic goals.
Deepen your knowledge of philanthropy through multiple access points: thought leadership, programs, events, networks, granting opportunities
Our Guiding Principles:
Less instruction, more interaction and collaboration
Learning with and from other each other, not just from us
Prioritizing speakers from the community
Providing access to new spaces, places and ideas
Our 2021 Learning Calendar
Check out our calendar of events planned for 2021 here.
You can register for our first event in January. Registration for the other events will be open soon.