The Role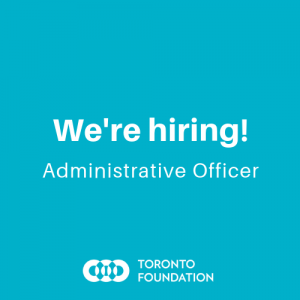 Are you a natural administrator drawn to working with executives and Boards of Directors? Can you gracefully juggle a full calendar? Do you take pride your organizational skills and your discretion? If so…this could be the role for you!
We are seeking a highly professional, detailed-oriented, self-starter that enjoys managing a full calendar of executive engagements, and has experience with the administrative side of Board governance.
Reporting to the Manager, Executive Office, the Administrative Officer arranges the CEO's schedule and supports her in all administrative work for the Board and Committees. With a "can do" attitude, this role will also have other duties that involve support to various other senior staff.
For the full job description click here.
Please submit your resume in confidence to resumes@torontofoundation.ca and include the position title and your name in the subject line of the email (e.g. Job Title, First Name Last Name).
Deadline: Thursday July 11, 2019 at 5:00 p.m.
---
Toronto Foundation is committed to the fundamental principles of equal employment opportunity. We are committed to treating people fairly, with respect and dignity, and to offering equal employment opportunities based upon an individual's qualifications and performance — free from discrimination or harassment because of race, ancestry, place of origin, ethnic origin, colour, citizenship, creed (including religion), sex (including pregnancy and breastfeeding), sexual orientation, gender identity or gender expression, age, marital or same-sex partnership status (including single status), family status, disability, and record of offences, in accordance with the Ontario Human Rights Code.
Toronto Foundation is committed to the principles of the Accessibility for Ontarians with Disabilities Act (AODA). As such, we strive to make our recruitment, assessment and selection processes as accessible as possible and provide accommodations as required for applicants with disabilities. If you require any accommodations at any point during the application and hiring process, please contact resumes@torontofoundation.ca.