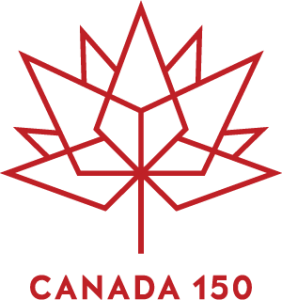 Through this nation-wide initiative led by Community Foundations of Canada, Toronto Foundation has made grants of more than $300,000 to community organizations across Toronto running special sesquicentennial programming that:
Encourages participation in community activities and events to mark Canada's 150th anniversary of Confederation.
Inspires a deeper understanding about the people, places and events that shape our country and our communities.
Builds vibrant and healthy communities with the broadest possible engagement of all Canadians, including Indigenous peoples; groups that reflect our cultural diversity; youth; and official language minorities.
Thank you to our generous supporters! Click here for the full list.
---
Upcoming Public Events
Canadian Roots Exchange: All My Relations – Quarterly 
Location: University of Toronto Schools
Follow them on Twitter or Facebook for updates as to their next event.
Children's Book Bank: Celebrating Canada – March through July
Location: Downtown Toronto
Sistema Toronto: Exploring Issues through Creativity – June 3
Location: Scarborough Philharmonic Orchestra at the Salvation Army Scarborough Citadel
Jumblies Theatre: Talking Treaties, Red Pepper Spectacle: TIKINAAGAN/Cradleboard Project – June 16-18
Location: Na-Me-Res Annual Solstice & National Aboriginal Day Pow Wow at Fort York
Regent Park School of Music: Canada 150 Party in the Park – June 25
Location: Regent Park Big Park
MABELLEarts: Eid Al Fitr – June 26
Location: Mabelle Park
Riverdale Housing Multicultural Celebration, Making Room Community Arts: Common Ground – Multicultural Day, June 27
Location: Riverdale and Parkdale
North American Indigenous Games – July 16-23
Location: Mississaugas of New Credit Traditional Territory & GTHA
Canadian Stage: Territorial Tales – June 29-September 3
Location: Shakespeare in High Park Mainstage
Ecologos: Great Lakes Water Walk September 24
Location: Toronto Harbour, Humber River and Don River
Metis Cultural Commission: Rendezvous – Fall 2017
Location: TBD

---
Learn more about the recipients
This initiative explored many meaningful national themes like diversity, reconciliation, and belonging that connect us and characterize our history, challenges, and values. As you read on, you will see that Indigenous-led projects have been identified among others to highlight the importance of their work throughout this year.
The funding community has had little relationship with Indigenous communities throughout history, and we want to draw attention to the important work they are doing. Reconciliation is a theme of this initiative, which holds a lot of tension, as it also marks 150+ years of a nation built on many unceded territories and treaties left unhonoured. These organizations are leveraging the conversation about confederation and leading reconciliation by helping to heal and educate, for a better, more equitable future for all of us.
Toronto Foundation is also working with The Circle on Philanthropy and Aboriginal Peoples, for more info click here.
Grantee Details
Community Arts and Festivals
150 Reasons We Love Canada: Toronto – VIBE Arts
An arts project that will turn high profile locations (TTC, Toronto Pearson International Airport) in Toronto into art galleries with original hand-painted art created by diverse youth living on the margins about what they love about living here.
Canada 150 Heritage and Hope Timeline – Moorelands Community Services
An immersive, collaborative learning journey for 600 youth from 58 different cultural backgrounds from Toronto that will take place at Mooreland's Wilderness Camp. Over the course of 6 weeks youth will create a nature walk with stations to represent significant Canadian achievements. At the end of the walk, participants will create a large Canadian flag by writing their hopes and dreams for the country on red and white cards and posting them together.
Canada 150 Party in the Park – Regent Park School of Music
A carnival-style music and arts event in Regent Park's Big Park that will bring together over 2,000 residents to commemorate Canada's 150th. The party will feature eight original songs from Regent Park School of Music's young people about local kids' lives and Canadian stories. It will be produced in partnership with The Daniels Corporation, Artscape, Daniels Spectrum, ArtHeart, Regent Park Film Festival, Native Earth, COBA, Council Fire, and more.
Celebrating Canada through Children's Books – The Children's Book Bank
A celebration of the essential role children's literature has played in the lives of Canadians, past and present. Prominent Canadians from across the country will share their favourite children's books in videos to be shared on social media. Each week from March to July, the Children's Book Bank Saturday story-time will be devoted to reading the championed books aloud.
Exploring Issues through Creativity – Sistema Toronto
In collaboration with the Scarborough Philharmonic Orchestra, author Robert Eisenberg and composers Julia Bowkun, Sistema students will create and perform a multi-media piece for children, to enable them to express their experiences as Canadian newcomers thus building an inclusive and vibrant community and providing a deeper understanding of their community and country.
Riverdale Housing Multicultural Celebration – Riverdale Housing Animation Programs
A one-day celebration of cultural diversity and social inclusion by showcasing the foods, cultures, and histories of community members. The Riverdale Housing Action Group ensures safe and rent-geared-to income housing for the most vulnerable. All community members live below the national-average poverty line with a typical family income of $13,688. The program exists to provide educational, social, and recreational programs to advance the social and economic well-being of residents.
---
Diversity & Inclusion
Célébrons le Multicultur-Elles de Demain! – LEO (Leadership, Espoir, Opportunité)
A leadership intensive camp for young Francophones that focuses on diversity, inclusion, and community, civic and political engagement. The young women will meet with successful women in leadership positions, share their experiences and challenges, explore Canada's successes and failures and work towards their own self-development.
Connecting Cultures – Outward Bound Canada
A cross-cultural program that will connect Indigenous and non-Indigenous, newcomer and Canadian, underserved and privileged Toronto youth through an expeditionary learning course through which they will develop an understanding of each other's cultures and mutual respect, compassion for one another and the land.
Freedom Singer – Crow's Theatre
A theatrical and musical experience that tells the story of a Black man searching for a denied history in the songs of the Underground Railroad. Premiering in Leslieville, a historic Black neighbourhood from the 1800s, JUNO-nominated Khari Wendell McClelland retraces the steps of his great-great-great-grandmother, using hip-hop, gospel, and soul to retell her story. There are 13 scheduled performances, including three subsidized shows for youth.
Territorial Tales –  Canadian Stage
A new performing arts program focussed on telling the stories of newcomer youth and families and exploring the role of the land in forming our identity as Canadians presented in partnership with the Institute for Canadian Citizenship, Sketch, and Kids Up Front. Through spring and summer, the program will engage people across the city in telling their own stories of arrival and settlement in Canada and develop new theatrical works to be performed before Shakespeare in High Park performances in August 2017.
Youth Leaders: Eid al-Fitr in Mabelle Park – MABELLEarts
Three emerging arts leaders will mentor 15 diverse, low-income youth in imagining, developing, and procuring an inter-cultural Eid al-Fitr celebration that recognizes Canada's 150th. Youth will participate in workshops exploring, leadership, xenophobia and islamophobia, racialization, cross-cultural collaboration, and community development. 500 community members will attend the culminating Eid celebration in the park.
---
Indigenous-led
7 Generations Youth Reconciliation Project – Native Child and Family Services Toronto
This project will bring together diverse Indigenous and non-Indigenous youth artists from across the GTA to engage in facilitated experiential learning and arts-making activities to learn about, discuss, and exhibit inspiring and engaging works of art exploring the meaning of Reconciliation.
Celebrating 150 Years of Indigenous Contributions to Canadian Sports Culture – Toronto North American Indigenous Games (NAIG) Host Society
Trustee: Mississaugas of the New Credit First Nations
A public history initiative that aligns with the Truth and Reconciliation Commission of Canada's Call to Action number 88, which calls for providing 'public education that tells the national story of Aboriginal athletes in history'. It will include an online digital learning resource, an interactive multi-media exhibit, and a social media campaign to engage the +25,000 daily visitors to the NAIG this summer.
The Great Lakes Water Walk & Celebration – Ecologos Environmental Organization
A daylong walk, led by Anishinabek Grandmother and Elder Josephine Mandamin, will share the tradition of sacred water walking by bringing Toronto residents to the mouths of our four major rivers. It will take place across the Lake Ontario waterfront in Toronto and will join thousands of Indigenous and non-Indigenous Canadians in a shared celebration and honouring of the Great Lakes.
Reconciliation in Canada: Indigenous and non-Indigenous Youth Lead the Way – Canadian Roots Exchange
A youth-to-youth reconciliation project to promote belonging and connection between Indigenous and non-Indigenous youth aged 14-29 years old. A four part series of community dialogues will amplify the histories and realities of Indigenous, newcomer, and racialized youth and give a platform for their vision for respectful community relations in Toronto in the year of Canada's 150th.
Talking Treaties – Jumblies Theatre
An artistic and educational installation, developed by Ange Loft (Mohawk artist) and Victoria Freeman (Anglo-settler-descended historian and expert on Canada's colonial histories), to spark conversation about Toronto residents' relationship to the land. The Pageant will include life-size sculptural representations of all the items exchanged in the Toronto Purchase, large-scale puppetry, and original and traditional music and choreography to impart Indigenous and Treaty awareness. To conclude, Underneath, an original Catanta by Martin van de Ven, will be performed which includes the singing of verbatim text from the Toronto Purchase by a soprano, overlapping with a traditional First Nations song by Rosary Spence.
Rendezvous – Métis Nation of Ontario Cultural Commission
A public celebration of one of Canada's distinct Indigenous peoples, the Métis, and their extensive contributions to the establishment of Canada. Historically, Métis people and communities would gather together at certain times of the year to meet, or Rendezvous, in a celebration of their culture, including their musical, dance, and culinary traditions. This will be the first ever Rendezvous in Toronto/York Region.
TIKINAAGAN/Cradleboard Project – Red Pepper Spectacle Arts
Trustee: Native Men's Residence (Na-Me-Res)
A project in which Na-Me-Res clients will participate in Anishinaabe teachings to design and construct 13 traditional cradleboards to be exhibited at the 32nd Traditional Pow Wow at Fort York National Historic Site's Indigenous Arts Festival. The Cradleboard is at the heart of Anishinaabek, and many other Indigenous cultures', childcare traditions and holds the power to affect and activate cultural memory, carrying generations of family, and community. This project will be a healing process created through responsive collaborative arts, addressing the impact of trauma of families torn apart by Residential Schools.
---
Public History
Cartography 2017 – ArtStarts
An innovative approach to map making in the form of collaborative, arts-based representation of our geographic spaces as they existed over 150 years ago and as they exist today. With the help of Indigenous Elders, the new maps will illuminate Native cartography overwritten by settlers, and animate the map with stories from the community in its present state.
Common Ground – the story of one block – Making Room Community Arts
Trustee: MABELLEarts
Four acclaimed senior artists (Helen Melbourne, Renzin Wangmo, Rita Cox, and Tyde Cambride) will lead this project from community hubs that work on the same block in Parkdale. These artists will work with their communities to create 25 art-making workshops that reflect the diversity of the neighbourhood, and the country. This will culminate in a large community celebration that will take place on Multicultural Day.
First Nations Education Program – Friends of Fort York
An education module with a focus on Indigenous settlements and Toronto history with site specific components created by Friends of Fort York, in partnership with Mississaugas of the New Credit First Nation, the TDSB and Historica Canada. It will bring to life the history of the land and peoples who lived on the present day Fort York National Historic Site for the young people who visit.
Hear our Story – EGALE Canada Human Rights Trust
This project will develop two documentary-style short films that capture first-person accounts of LGBTQI2S people who participated in, or were affected by historically significant Canadian LGBTQI2S events. The first will focus on the Toronto Bathhouse Raid, the second on Canadians for Equal Marriage. The goal is to raise awareness and understanding of the lived experience and accomplishments of the LGBTQI2S community.
Not Just Numbers: Representation in the Canadian Census – Toronto Ward Museum
Trustee: Ontario Council of Agencies Supporting Immigrants
A series of community-led events across the country, starting in Toronto at the Myseum's Intersections festival that will invite tourists and locals to uncover and celebrate the life stories behind the 1871 census. Early data information will be used to engage the public in a dialogue about the role historical records have played in the construction of our identity. The census will be brought to life by moving beyond the data to reveal and celebrate the life stories behind the names, facts, and figures.