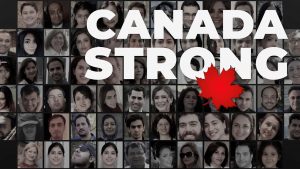 Thank you to all Canadians for their support of this campaign. We are grateful for everything that you've done and are now working as quickly as possible to ensure that the funds raised will be shared with the families affected. 
Mohamad Fakih, President of Paramount Fine Foods and Founder of the Fakih Foundation, has launched a campaign to collect funds for the victims of Flight 752.
Moved by this tragedy and wanting to pay tribute to the lives lost, many Canadians have been learning the names of the victims and reading their personal stories.
The families of the victims from across Canada will face a number of expenses. We are encouraging Canadians to support the families of the victims by making a donation. With pro bono oversight from Dentons Canada LLP and support from the City of Toronto, all donations will flow-through Toronto Foundation to benefit those affected.
On Wednesday, January 22, the Government of Canada announced that it is matching funds donated to the Canada Strong fund. The government's pledge is to match donations to the fund up to $1.5 million, with the intention of providing longer term support for the families of the victims. The contribution is in addition to the $25,000 that will go to each family to cover immediate funeral and travel expenses. Matching of donations from the Federal Government ends on February 21, 2020.
This is a time for all Canadians regardless of race or religion, to come together and show the world what it means to be Canadian.
Tax Receipting
Canadian Tax receipts will be issued for donations of $25 or more. For any issues with the donation form, or questions about tax receipting, please contact our processing partner, CanadaHelps via phone (416-628-6948) or email (info@canadahelps.org).
Donating via Cheque
If would you would prefer to donate via cheque, please make the cheque payable to Toronto Foundation and reference "Canada Strong Campaign" in the memo line. Then, mail the cheque to:
Toronto Foundation
33 Bloor Street East, Suite 1603
Toronto, ON
M4W 3H1
Canada
Questions/Comments?
If you have questions about ways to give or get involved, please contact Nariman Sweid from Paramount Fine Foods via email (nariman@paramountfinefoods.com) or phone (647-633-6726).
To enable the Donor Advisor to properly recognize donors for their contributions, Toronto Foundation will share your contact information and donation amount with the Donor Advisor unless you have checked the anonymous box on the donation form.