Community Fund for Canada's 150th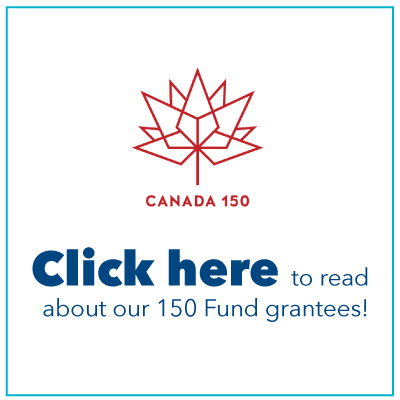 We see Canada's 150th anniversary of Confederation in 2017 as an important moment in our country's and our city's, history and future. It's an opportunity, not only to celebrate together, but to reach across divides and build new connections. To weave together thousands of local stories to build a new narrative of our country and its peoples. And to imagine what's next, together. 
Through this nation-wide initiative led by Community Foundations of Canada, Toronto Foundation has made grants of more than $300,000 to community organizations across Toronto running special sesquicentennial programming.
This initiative is made possible by the Community Fund for Canada's 150th, a collaboration between Toronto Foundation, Community Foundations of Canada (CFC), the Government of Canada, and extraordinary leaders from coast to coast to coast.
This grant stream is now closed.
---
Thank you to everyone that made this initiative possible!
Our generous supporters
Chairman's Circle
John and Jocelyn Barford Family Foundation
Bertram Family Fund
Calamor Fund
Duboc Family Foundation
Mr. John Francis
Griggs Family Foundation
Mr. Richard Peddie and Mrs. Colleen Peddie
Townsend Family Foundation
President's Circle
Mr. Ian L. T. Clarke and Mrs. Donna Clarke
Bill Morneau and Nancy McCain Foundation
John and Amanda Sherrington Fund
Friend
Altair Fund
Ms. Neala Barton and Mr. Mike Feenstra
Mr. and Mrs. S. Michael Brooks
Ms. Sarah Chiddy and Mr. CJ Chiddy
Mr. Edward Greenspon
Mr. John Alexander Houston
The Susan, Sarah and Nicolas Latremoille Fund
Mr. William A. MacKinnon
Ms. Rosalyn J. Morrison
Mr. André Perey
Ms. Ceta Ramkhalawansingh
Ms. Lola Rasminsky
Waitzer Family Fund
Mr. Greg A. Wilkinson and Mrs. Margaret Wilkinson
Anonymous (1)
Grant Selection Committee
Sue Griggs, Committee Chair
Leadership Coach, The Coaching Project Inc.; Toronto Foundation Board Member; Fundholder
Devon Ostrom
Lead Curator, Co-Founder, Friends of the Pan Am Path
Michael Barford
Toronto Foundation Fundholder
Richard Peddie
Vice-Chair, Toronto Foundation Board; Fundholder
Kizzy Bedeau
Director, Community Partnerships Office, George Brown College
Ariel Smith
Executive Director, imagineNative
Thomas Darnay
Vice President of Finance and Administration, Indspire
Natalie Townsend
Managing Partner, NorthRock Capital Partners; Toronto Foundation Board Member; Fundholder
Ige Egal
Executive Director, Toronto Inner City Rugby Foundation; Past Vital People recipient
Corina Weigl
Partner, Fasken Martineau
Susan Latremoille
Director, Wealth Management, Wealth Advisor, Latremoille Group, Richardson GMP; Toronto Foundation Fundholder
Jesse Wente
Director of Film Programmes, TIFF Bell Lightbox