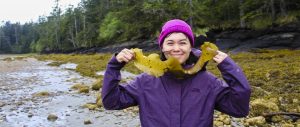 The Danielle Moore Spring of Hope Foundation honours the incredible legacy of Danielle Moore, a courageous leader, champion for justice, and environmental activist who was always keen to carry the hard work of sustainability forward. Tragically, Danielle's life was cut short on March 10th, 2019, when flight ET302 crashed in Ethiopia – Danielle was on her way to represent Canada at the United Nations Environment Assembly in Nairobi, Kenya.
Danielle lived her life full of hope and believed in creating great change for a more just and environmentally sustainable planet. Through this charitable foundation, we hope to carry on her mission of environmental and social activism.
To date, funds have supported the Ecology Action Centre, an environmental non-profit organization in Halifax where Danielle volunteered and led community events. A Green Scholarship has also been set up at Danielle's former high school, Francis Libermann, which we will fund each year to honour a student who embodies Danielle's environmental leadership. Some of your donations have been able to support the Evergreen Future Cities Centre, InvestEco's sustainable food fund, and CoPower clean energy projects, just to name a few.
Before her passing, Danielle was following her calling as a teacher inspiring children and youth from marginalized communities across Canada. She made anyone feel special and encouraged others to share their gifts with the world. Through her work with Ocean Bridge & Canada Learning Code in rural Manitoba, Northern Ontario, and Iqaluit, she had become a strong advocate for finding sustainable solutions to protect the environment and championing Indigenous rights. We hope Danielle's foundation inspires others to carry on with energy and focus to make the world a better place.
Her positive vision and beautiful legacy are building meaningful connections for the future thanks to your generous support. Thank you!
(We are currently in the process of designing a separate website for The Danielle Moore Spring of Hope Foundation which will provide frequent updates and more information about projects and communities benefitting from your kind donations.)
If you wish to avoid any credit card charges, you can make cheques payable to 'Toronto Foundation', with 'Danielle Moore Spring of Hope Foundation' in the memo line. Cheques can be mailed or hand delivered to:
Toronto Foundation
1603-33 Bloor Street East
Toronto, Ontario
M4W 3H1
This Fund's granting purpose is subject to change at the request of the Donor Advisor. To enable the Donor Advisor to properly recognize donors for their contributions, Toronto Foundation will share your contact information and donation amount with the Donor Advisor unless you have checked the anonymous box on the donation form.