The Role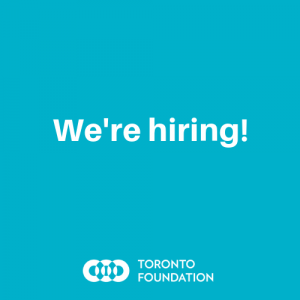 We are seeking a highly professional, detailed-oriented, self-starter to join our Philanthropy team as a Development Officer. They are responsible for providing expertise and support to both the Philanthropy and Legacy teams to build/grow the Foundation's assets and relationships with philanthropists. Reporting to Director, Philanthropy, the Development Officer will provide support and leadership in areas related to development following the duties and responsibilities outlined in the full job description attached below.
For the full job description click here.
Please submit your resume in confidence to resumes@torontofoundation.ca and include the position title and your name in the subject line of the email (e.g. Job Title, First Name Last Name).
Deadline: Tuesday March 24, 2020 at 5:00 p.m.
---
Toronto Foundation is committed to the fundamental principles of equal employment opportunity. We are committed to treating people fairly, with respect and dignity, and to offering equal employment opportunities based upon an individual's qualifications and performance — free from discrimination or harassment because of race, ancestry, place of origin, ethnic origin, colour, citizenship, creed (including religion), sex (including pregnancy and breastfeeding), sexual orientation, gender identity or gender expression, age, marital or same-sex partnership status (including single status), family status, disability, and record of offences, in accordance with the Ontario Human Rights Code.
Toronto Foundation is committed to the principles of the Accessibility for Ontarians with Disabilities Act (AODA). As such, we strive to make our recruitment, assessment and selection processes as accessible as possible and provide accommodations as required for applicants with disabilities. If you require any accommodations at any point during the application and hiring process, please contact eaquiseto@torontofoundation.ca.