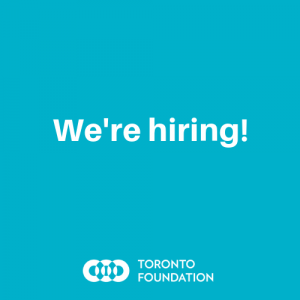 Toronto Foundation is seeking a highly professional, detailed-oriented, self-starter that enjoys the administrative side of Board governance and managing a full calendar of executive engagements.
Reporting to the Manager, Executive Office, the Administrative Officer is responsible for providing a full range of administrative support for the Office of the CEO, with a primary focus on governance administrative support for the Board of Directors and its Committees (Governance, Finance & Audit, Investment, etc.) and arranging and maintaining the CEO's schedule. The Administrative Officer will have demonstrated experience with preparing minutes, managing a wide variety of relationships, and scheduling a full calendar. We are looking for a detail-oriented candidate with strong organization and time management skills, who is able to juggle multiple deadlines, work independently, and seek guidance on relative priorities.
If that sounds like you, then read the full job description here.
Please submit your resume in confidence to resumes@torontofoundation.ca and include the position title and your name in the subject line of the email (e.g. Job Title, First Name Last Name).
Deadline: midnight on Sunday July 19.