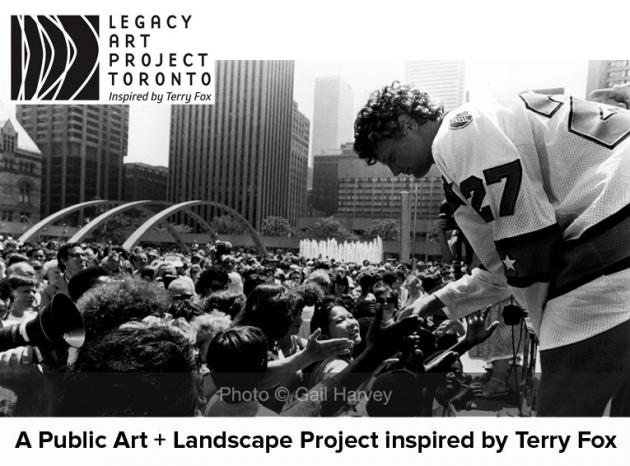 We invite you to join us in bringing Legacy Art Project Fund to life!
This privately funded, public art and landscape installation is inspired by Terry Fox's legacy.  It will be situated on our central waterfront, right next to the magnificent Toronto Music Garden.
Magnificent public art is one of the hallmarks of a great city.  We envision a unique space on Queen's Quay W., bordered by the Martin Goodman Trail on the north and the Waterfront Trail and Lake Ontario on the south.  It will be a gathering place where Torontonians can be inspired all over again by the courage, determination and hope that Terry Fox embodied.
Legacy Art Project Fund is proudly working with the City of Toronto to enhance a current vacant space at the foot of Spadina Avenue for the enjoyment of both local residents and visitors.  Taking shape in 2018 and 2019, the design for the final installation will emerge from a juried public art competition, focus groups and community consultations.  Just as the Music Garden captures the principles of music through its landscape design, the Legacy Art Project will express Terry's leadership, his positive energy and his confidence in the future.
Once it is completed and re-named, the Legacy Art Project Fund will be a place of inspiration and celebration.  It will be a catalyst for innovative thinking, purposeful action and community building.  This permanent reminder of the extraordinary story of a seemingly ordinary young Canadian who taught us that "Anything is possible if you try" will serve to educate and motivate people of all ages from all backgrounds.
Project plans are well underway.  With your help, we can carry Terry's torch into the future.  Let's stand together at the ribbon-cutting ceremony scheduled for 2020.
Legacy Art Project Fund is proud to partner with Toronto Foundation in this venture because they, like Terry Fox, are evidence of the powerful impact of philanthropy.
We ask you to invest in The Legacy Art Project to honour Terry and pay tribute to someone or something you believe in.
For more information: www.terryfoxlegacyproject.com
This Fund's granting purpose is subject to change at the request of the Donor Advisor.
To enable the Donor Advisor to properly recognize donors for their contributions, Toronto Foundation will share your contact information and donation amount with the Donor Advisor unless you have checked the anonymous box on the donation form.