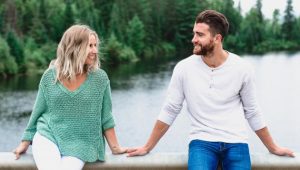 Started by husband and wife, TJ and Amber Brodie, The Lighthouse Foundation was created to help support, raise awareness and give back.
Two causes that are close to their hearts are Cystic Fibrosis and Multiple Sclerosis.
TJ has been actively fundraising for cystic fibrosis (CF) for over 5 years. TJ has watched his cousin, Ian Badder, live with and battle CF his entire life. After finally witnessing Ian successfully undergo a double lung transplant, TJ has been inspired to raise awareness and funds for CF research as well as organ donation.
In October 2015, Amber was diagnosed with multiple sclerosis. Multiple sclerosis is a disease that can be obviously disabling or completely invisible to others. This chronic autoimmune disease is desperately in need of research funding in an effort to find a cure.
Fundraising for these chronic illnesses is very important to them. They hold onto the hope that one day there may be cure and that in the mean time, they can help give hope to the people affected by them.
If you know Amber and TJ, you know how much they love their babies. Their daughter Severn and their dog Gunner. As The Lighthouse Foundation grows, they will also help support local charities and provide sponsorships to help young athletes play the game they love. As well as giving to animal rescue charities to help save the little lives that can't speak for themselves.

This Fund's granting purpose is subject to change at the request of the Donor Advisor.
To enable the Donor Advisor to properly recognize donors for their contributions, Toronto Foundation will share your contact information and donation amount with the Donor Advisor unless you have checked the anonymous box on the donation form.