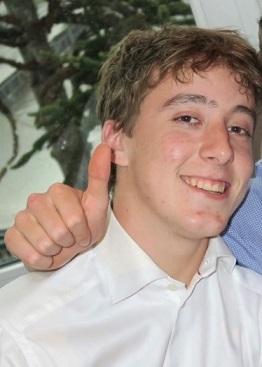 Jake Riley Thompson
April 22, 1998 – March 5, 2017
The Jake Thompson Memorial Fund honours the memory of Jake (Jacque) Thompson, a beloved son, brother, grandson, cousin, nephew and friend. He had a magnanimous personality, was quick on his feet, and was a natural athlete. Jake was bright, compassionate and insightful. His engaging spirit will live on in all the lives he touched.
Lisa, Chuck and Cole will determine where the donated funds will be contributed to meaningfully honour Jake's memory.

If you would like to make a contribution with a cheque, please make the cheque payable to Toronto Foundation and reference The Jake Thompson Memorial Fund in the memo line. Please mail the cheque to:
The Jake Thompson Memorial Fund
c/o Toronto Foundation
33 Bloor Street East
Suite 1603
Toronto, ON
M4W 3H1

This Fund's granting purpose is subject to change at the request of the Donor Advisor.
To enable the Donor Advisor to properly recognize donors for their contributions, Toronto Foundation will share your contact information and donation amount with the Donor Advisor unless you have checked the anonymous box on the donation form.