Park Street Education is a not-for-profit organization committed to removing barriers to education for underserved youth by providing accessible after-school programming (group lessons and tutoring). Regardless of socioeconomic background, geography, or learning style, at Park Street no kid is ever left behind.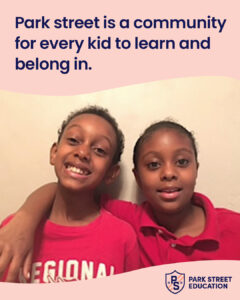 Park Street is home to a community of close to 200 students. A community where every kid feels like they belong. Donate to Park Street so more kids can belong, learn and be themselves in a community that welcomes them.
Every donation makes a big difference – to the kids, to the community, and to you! (Did you know that donating to charity is good for your health?)
About Park Street Education 
Founded in 2020 to address the immediate education needs of students and parents early in the pandemic, Park Street first launched as a virtual day school and after-school program. The not-for-profit's vision was to create new and more equitable paths to learning through a hybrid model, indexed tuition, and full scholarship opportunities. Through Park Street's one-to-one enrolment model, it has provided scholarships to 105 underserved youth to date (across two school years). This upcoming year, Park Street aims to triple this by supporting 150 students in this school year alone.
With the return to in-person learning combined with the increased risk of students falling behind, Park Street has transitioned it's programming staying true to its mission of providing accessible education. To remove the geographic barriers to education, Park Street is continuing its hybrid programming while also shifting to focus solely on expanding it's after-school programs to underserved youth who are at risk of, or already falling behind in school. According to a poll commissioned by the Fraser Institute, nearly 80 per cent of Ontario parents of children in K-12 schools said their child had fallen behind due to […] the impacts of COVID-19."
By donating to the Park Street Education Student Scholarship Fund, you will be providing free after-school educational support to children who need it most. Park Street's programming is uniquely designed to allow students to foster a love of learning, ensure success in and out of the classroom and to put them on a path of empathy, curiosity, and graduation.
In a world where students continue to face increasing obstacles to receiving a quality education even at the youngest of ages, the equity gap in education continues to grow.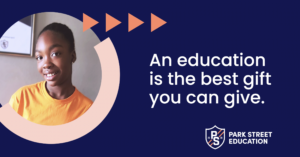 How Park Street Creates Equitable Education Opportunities for Underserved Youth
Park Street partners with youth-based organizations like Big Brothers Big Sisters of Toronto to ensure the kids who face the inequities in the education system every day; inequities that have only been exacerbated by the pandemic, receive the learning support and attention they need to thrive.
The Park Street Student Scholarship Fund provides high quality and equitable after-school enrichment courses and individual tutoring to help guide underserved youth to graduation. All donations will contribute to an underserved youth's after-school program enrolment which includes educational textbooks, tech kits, supplies, and activities.
Our mission? It's simple: Providing life-changing opportunities through education.
Are you in?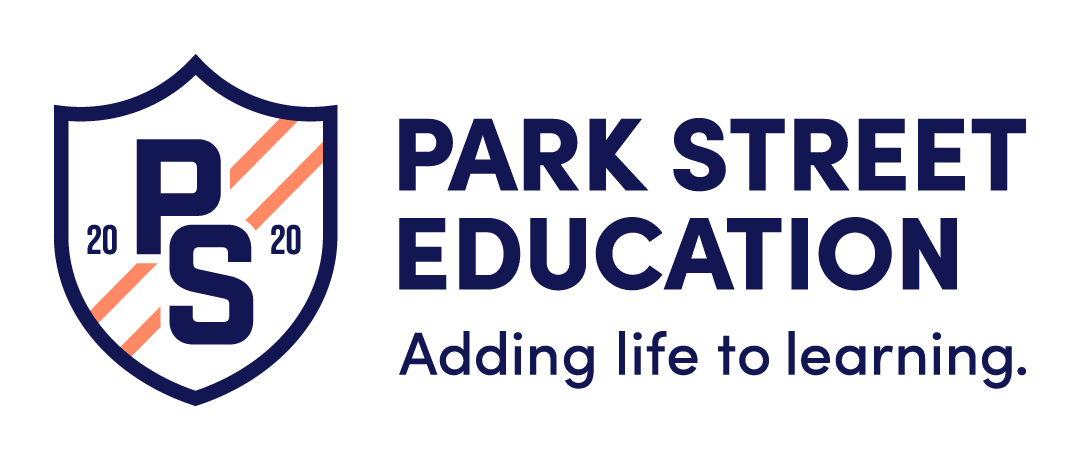 Please note, Park Street Education is a not-for-profit and currently pursuing its charitable status.
Recipients of the Park Street Education Student Scholarship will be selected through an inclusive application process. Members of the community are also encouraged to nominate students. Applications and nominations are now open for registration. A tax receipt will be issued for each donation received online of $3 or higher and each donation received by cheque or wire transfer of $25 or higher.
To learn more about Park Street Education or to nominate a young person in your community contact us at info@parkstreetedu.com.
To enable the Donor Advisor to properly recognize donors for their contributions, Toronto Foundation will share your contact information and donation amount with the Donor Advisor unless you have checked the anonymous box on the donation form.