About Park Street Education 
Park Street Education is a non-profit school committed to removing all barriers to a high quality education. Park Street is focused on combining real world experiences with education, and making this accessible and equitable to all regardless of socioeconomic background, geography or learning style. We are committed to removing all barriers to children's education – so no kid is ever left behind.
Founded in 2020, the Park Street Education Student Scholarship Fund creates the opportunity for school aged youth across Ontario and beyond to thrive, learn effectively and reach their full potential. In a world where students continue to face increasing obstacles to receiving a quality education even at the youngest of ages, the equity gap in education continues to grow. While there are admirable efforts dedicated to post-secondary accessibility, learning success and financial support, what about those children that don't make it to post-secondary school?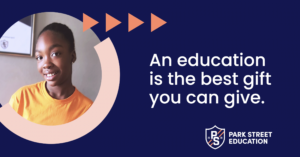 How We Create Equitable Education Opportunities for Underserved Youth
At Park Street, we have a 1:1 enrolment model, meaning that for every tuition-paying student, we sponsor one full-time student from underserved populations in partnership with youth-based organizations like Big Brothers Big Sisters of Toronto. These kids face the inequities in the education system everyday; inequities that have only been exacerbated by the pandemic. The Park Street Student Scholarship Fund supports them by providing high quality and equitable education to help guide them to graduation. All donations will contribute to an underserved youth's full-time studies which includes educational textbooks, supplies, and activities, and participation in after-school supplemental programs and individual tutoring.
Our mission? It's simple: Making quality education accessible to all.
Are you in?
Recipients of the scholarship will be selected through an application process. Members of the community are also encouraged to nominate students. Applications and nominations are now open. A tax receipt will be issued for each donation received online of $3 or higher and each donation received by cheque or wire transfer of $25 or higher. We would be grateful for your generous support in making a scholarship possible for a young person.
To learn more about Park Street Education or to nominate a young person in your community contact us at info@parkstreetedu.com.
To enable the Donor Advisor to properly recognize donors for their contributions, Toronto Foundation will share your contact information and donation amount with the Donor Advisor unless you have checked the anonymous box on the donation form.