"You always want to leave an organization better than you found it. Roz's tenure at the Foundation is a testament to this."

– Bill Mackinnon, Chair, Toronto Foundation Board of Directors

After 12 years we bid farewell to Rosalyn Morrison who retires at the end of this year.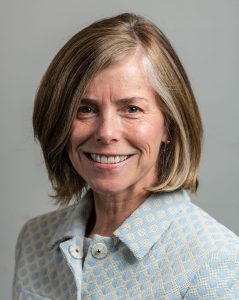 Roz began her journey with Toronto Foundation in January 2007, when it was known as Toronto Community Foundation. Starting as a consultant with the Community Initiatives team, Roz's keen insight and complex problem solving skills made her a stand-out. In just three months she was made Vice President, Community Initiatives.
But it wasn't all smooth sailing. Roz was a steady hand as she weathered a tumultuous first year – a year that saw the retirement of one CEO, Anne Swarbrick, the hiring of a new one, Rahul Bhardwaj, and plenty of staff turnover. Throughout this period of great change, Roz still managed to secure the success of several huge projects, including three Vital Grant Streams, the Toronto Sport Leadership Program, and the release of the Toronto's Vital Signs report. But perhaps Roz's most acclaimed achievement was Arts On Track, the Museum Subway station revamping and grand re-opening, which has now reached near-landmark status in Toronto.
After an energetic first year, Roz's momentum only grew. Over the next 12 years, Roz maintained her hands-on leadership style to manage a team of staff and interns, the Community Initiatives Committee, the Toronto's Vital Signs Advisory Group, and numerous committees and sub-committees of external partners and volunteers. She oversaw many landmark projects, including Playing for Keeps, Vital Toronto Grant Streams, Ontario Summer Games Legacy Committee, the Community Knowledge Centre, Toronto Dialogues, Pan Am Path, Canada's 150th anniversary celebrations, and yearly Vital Toronto events, just to name a few.
"Rosalyn is the embodiment of what it means to be a city builder. Her ability to collaborate with and lead individuals from different sectors has dramatically increased what we have been able to accomplish at Toronto Foundation. I feel personally privileged to have learned from Rosalyn and believe that the foundation and the city are better because of her leadership. On behalf of Toronto Foundation's Board of Directors, I express our profound thanks for all that you have done."
– Natalie Townsend, Toronto Foundation Board of Directors
Even in the last two years, Roz has shown no sign of slowing down. She was instrumental in building Toronto Foundation's work in resilience by introducing the organization to the 100 Resilient Cities initiative. By resurfacing earlier Social Capital work and helping to raise $300,000, she sparked the launch of the Toronto Social Capital Study, and helped lay the groundwork for ongoing work on this important driver of the city's wellbeing. She has even pushed to scale up Social Capital research throughout Ontario by working with the United Way of Greater Toronto, the Ontario Trillium Foundation and Community Foundations of Canada, among others.
Though her accomplishments are many, it is impossible to capture all of Roz's incredible contributions in one short tribute. She has been a leader, an advisor, and a pillar of strength for Toronto Foundation. Though we are sad to see her go from our daily lives, we know she will remain a friend always. From all Toronto Foundation staff, board, and Fundholders, we thank Roz for all her important work and wish her all the luck in the world on her next adventure.