Toronto Foundation accepting applications for Government of Canada's Emergency Community Support Fund
Vulnerable residents in Toronto continue to be disproportionately affected by the COVID-19 pandemic. Launched on May 19, 2020, the Government of Canada's new Emergency Community Support Fund (ECSF) aims to provide additional assistance to organizations serving vulnerable populations. The Government of Canada is flowing funds through national networks, including Community Foundations of Canada, United Way Centraide Canada and the Canadian Red Cross.  
As one of Canada's 191 community foundations, Toronto Foundation is  proud to be working with CFC and the Government of Canada to deliver funding in Toronto to better support the city's most vulnerable. Through the ECSF, we will be investing an additional $5.1 million to support the critical services local charities provide. This fund will provide individual grants of up to $75,000 for emergency support. 
Please read through this webpage before beginning the application linked at the bottom of the page.
Organizations can start applying now 

 

Funds will be granted on a

 rolling basis

, so we encourage you to get your application in as soon as possible

 

While all grants need to be awarded by July 27, Toronto Foundation may stop accepting applications sooner if there is no money left to grant

 

Work being funded must be completed by March 31, 2021
Toronto Foundation can only accept applications from qualified donees

We are

 accepting applications from 

Toronto-b

ased 

organizations 

serving

 the city's most

 vulnerable 

 

populations, who are disproportionately impacted by the pandemic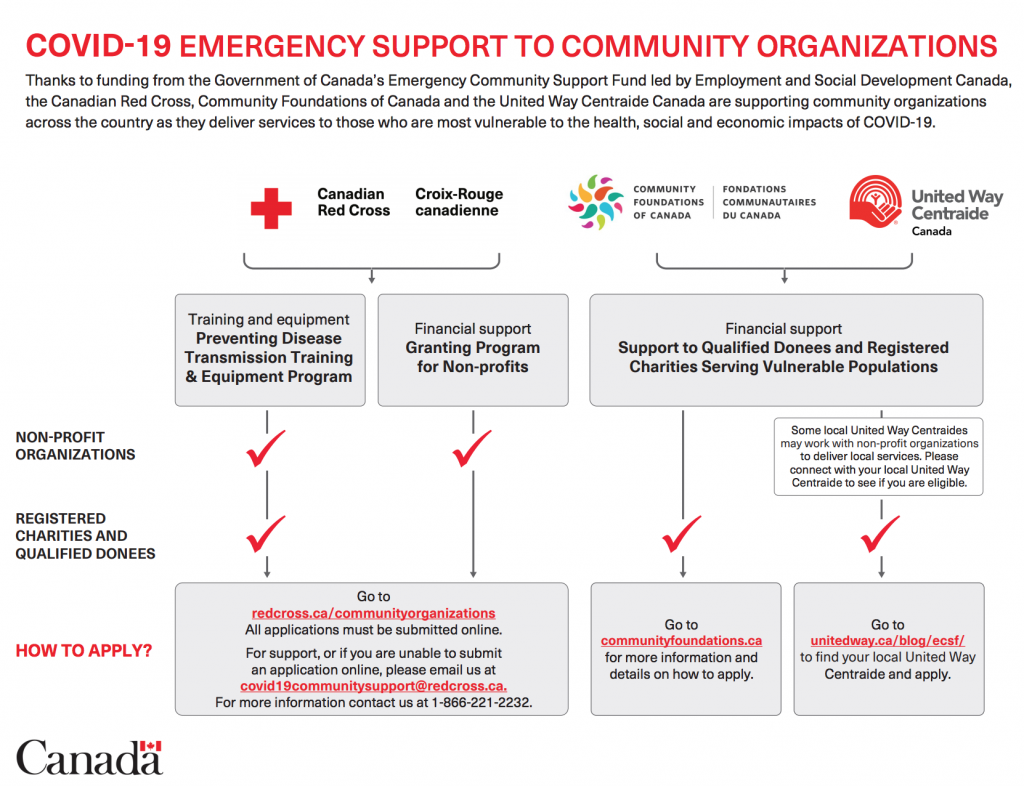 Note that United Way of Greater Toronto is also a partner on this initiative and accepting applications for both qualified donees and nonprofit organizations with trusteeship agreements. Toronto Foundation can only accept applications from qualified donees (nonprofits can work with qualified donees on a project, but the application must be submitted by the qualified donee). Local charities are encouraged to apply to either United Way or Toronto Foundation. If you already have a relationship with one of us, then please submit your application to that organization. If you don't have a relationship with either of us,  you are still encouraged to apply. Individual projects can only receive funding once.  United Way and Toronto Foundation will work together to ensure that there is no overlap in funded activities and that grants are distributed fairly. 
More Background 
Information
Watch a recording of one of CFC's informational webinars
This application template will

 help you prepare your application

before submitting it online

. If 

there is a

 barrier to accessing the online grants portal

, 

please let us know and we can help

.

 

Send additional questions to 

ECSF@torontofoundation.ca
Once you've confirmed your eligibility, please apply through the Community Foundations of Canada online application portal here
The Emergency Community Support Fund
Funded by