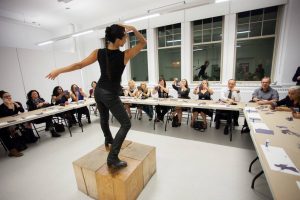 Toronto Foundation is pleased to announce its 2nd Social Impact Investment, a $1M loan to Artscape Launchpad Inc. It's a new model for creative space: part incubator, part co-working facility, part entrepreneurial centre as well as the proposed home for Artscape's headquarters.
Scheduled to open in 2018, the project has been designed to provide art and design professionals with the tools, resources, training, and mentorship necessary to build successful careers rooted in sustainable business practices. With its unique combination of programs, services, and facilities, Artscape Launchpad Inc. will change the landscape of Toronto's thriving arts community and provide a major boost to Ontario's $23 billion creative economy.
Click here to learn about our $1.5M Social Impact Investing pilot project with Habitat for Humanity.