#TorontoStrong Fund
On April 23rd an attack in Toronto left 10 dead, 16 injured and a city in shock.
This tragic incident has demonstrated the pain that can be inflicted on our city and our residents.
But it has also revealed Toronto's strength, our compassion and our resilience. First responders fought to keep victims alive and protect bystanders from further violence. Civilians comforted and supported the victims even as they witnessed unspeakable horror. Hospital staff worked around the clock to save lives and heal physical and emotional injuries. 
There has also been an outpouring of support from across the city and around the world, as people come forward to show their compassion for our city and those affected by this tragedy.
To help coordinate and direct this generosity of spirit, Mayor John Tory and the City of Toronto have partnered with Toronto Foundation to establish the #TorontoStrong Fund. 
The #TorontoStrong Fund will identify organizations and agencies to benefit from these donations in a coordinated, accountable manner. This will happen in a strategic, pronged approach to address the tragedy from multiple sides. The first was to provide crisis support, through Victim Services. They provide emotional support and practical assistance to cover the cost of some emergency expenses like covering funeral costs, body repatriation, trauma counselling, hotels for family, and child care. The second prong will identify organizations that are engaged in the ripple effect and aftermath of the attack. Through the third prong, we will engage charities who work on the related social issues, their interconnections, and can play a role in prevention. We will provide public updates as events evolve and as needs arise.
The City and Toronto Foundation will also work with the many generous individual efforts that have emerged to mobilize support, to ensure that this compassionate response can be directed where it is needed most.
Let's lean on each other in these difficult times and show that we are all #TorontoStrong.  
Timeline
April 23 – 10 people are killed and 16 more injured in the Yonge St. attack.
April 24 – Mayor John Tory announces the #TorontoStrong Fund, a partnership between the City of Toronto and Toronto Foundation.
April 29 – Thousands attend #TorontoStrong vigil in Mel Lastman square to honour attack victims and survivors.
May 4    – First grant from the #TorontoStrong Fund is made. Victim Services Toronto receives $500,000 to meet the immediate crisis financial needs of 25 families connected to the attack victims and survivors.
May 4    – #TorontoStrong Fund Steering Committee formed to oversee the allocation of the remaining funds.
Partners (more to come)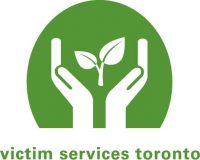 Lead Corporate & Foundation Donors (updated as received)
Canada Zakat – $221,424
Canadian National Railway Company – $50,000
RBC – $100,000
TD Bank Group – $100,000
CIBC – $50,000
Questrade Inc – $10,000
Bell – $50,000
Scotiabank – $100,000
Manulife – $100,000
Canada Goose – $25,000
Franklin Templeton – $10,000
POI Business Interiors – $10,000
BMO Financial Group – $50,000
Holt Renfrew – $25,000
CARA – $25,000
HSBC Bank Canada – $50,000
Rogers – $50,000
National Bank – $100,000
Samuel, Son & Co – $10,000
Diageo Canada – $10,000
Unifor – $50,000
Shopify team – $43,000

Sun Life Financial – $25,000
407 ETR – $10,000
Capital One – $25,000
Tim Hortons – $25,000
J. Armand Bombardier Foundation – $50,000
P&G Canada – $10,000
Green Shield Canada – $50,000
Edmonton Community Foundation – $10,000
Kijiji – $10,000
Toronto Area Ford Dealers – $25,000
BlackRock – $25,000
Barrick – $20,000
LCBO – $585,645
Sorbara Group of Companies – $10,000
The Cadillac Fairview Corporation – $10,000
Russell E. Boyce Dentistry Professional Corporation – $10,000
Entripy.com – $46,600
Loblaw Group of Companies (Fortinos, Loblaws, No Frills, Real Canadian Superstore, valu-mart, Your Independent Grocer, Zehrs) – $175,000

 
Donate by cheque
To donate by cheque, please make your cheque payable to Toronto Foundation and reference #TorontoStrong Fund in the memo line. Donations of $25 or more are eligible for a tax receipt. Please mail the cheque to 33 Bloor St. E. Suite 1603, Toronto, Ontario, M4W 3H1
Gifts of Securities
To donate securities, please fill out one of our Gifts of Securities Forms (Canadian Securities or US Securities).  If you have any questions, contact Lisa Grislis, Director Fundholder Engagement at Toronto Foundation by email or phone 416-921-2035 x 234
Tax Receipting
If you did not get an email with your tax receipt or made an error on the donation form, please get in touch with Canada Helps. You can email them at info@canadahelps.org or contact their call centre at 416-628-6948
Contact
Online errors: For issues with the donation form, or questions about tax receipting, please call the Canada Helps call centre at 416-628-6948
In-kind contributions: For other involvement with the fund, please contact the Peter Remedios at the City of Toronto by email.
Corporate donations: Please contact Aneil Gokhale, Director Philanthropy at Toronto Foundation by email or phone 416-921-2035 x 212
Media: Please contact Andrea Martinelli at City of Toronto by email or phone 416-799-5713
Press Releases

LCBO Donation Campaign Raises Over Half a Million Dollars in Support of #TorontoStrong Fund. May 8, 2018.
#TorontoStrong Fund donate first $500,000 to support victims and families of Toronto attack. May 4, 2018.
#TorontoStrong Fund surpasses $1 million mark. April 27, 2018.
City of Toronto establishes #TorontoStrong Fund to support victims of tragic incident at Yonge and Finch. April 24, 2018.