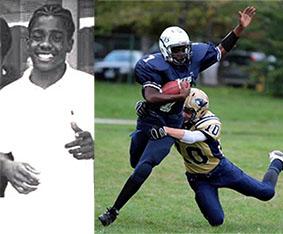 The Tyson Bailey Fund honours a positive young man who was a leader in and outside of the classroom. Tyson was a high school student at Central Technical School in Toronto. He was a vibrant, hardworking 15 year old with an infectious smile and a passion for the game of football.
Had his life not been taken suddenly and violently in a Regent Park housing complex, he had the potential to one day study and play at University.
The Tyson Bailey Fund is dedicated to helping underprivileged young athletes like Tyson, in the city of Toronto, play summer football at a competitive level as Tyson dreamed of doing. With enough support and funding we hope at some point to expand our mandate to other areas and clubs in Toronto, and to other sports.
The Tyson Bailey Fund follows the principles and goals of True Sport to instill positive values, to build character and community, to develop leaders and to increase athletic and educational opportunities for disadvantaged and at risk youth.
For more information about the fund, please visit www.tysonbaileyfund.com or email info@tysonbaileyfund.com.
This Fund's granting purpose is subject to change at the request of the Donor Advisor.
To enable the Donor Advisor to properly recognize donors for their contributions, Toronto Foundation will share your contact information and donation amount with the Donor Advisor unless you have checked the anonymous box on the donation form.