Social Impact Investing
Unlike traditional investment, social impact investment aims to generate positive and measurable social outcomes in addition to financial returns.
Pinery Trail Project
In June 2016, Toronto Foundation announced its first social impact investment, a $1.5M secured loan for Habitat for Humanity GTA's Pinery Trail Project. The 50-unit townhouse development is the largest build ever independently undertaken by Habitat for Humanity in the GTA and will be constructed over the next 24 to 36 months.
In conjunction with this loan, Habitat for Humanity GTA will assess the impact of ownership on the financial and overall wellbeing of the homeowner families by undertaking a baseline survey prior to occupancy and a follow-up survey four years after occupancy.
---
Artscape Launchpad Inc.
In December 2016, Toronto Foundation announced its second social impact investment, a $1M loan to Artscape for the Artscape Launchpad Inc. It's a new model for creative space: part incubator, part co-working facility, part entrepreneurial centre as well as the proposed home for Artscape's headquarters.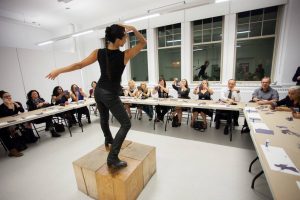 Scheduled to open in 2018, the project has been designed to provide art and design professionals with the tools, resources, training, and mentorship necessary to build successful careers rooted in sustainable business practices. With its unique combination of programs, services, and facilities, Artscape Launchpad Inc. will change the landscape of Toronto's thriving arts community and provide a major boost to Ontario's $23 billion creative economy.
For more information on Toronto Foundation's social impact investing, contact COO, Denise Arsenault at 416-921-2035 x207.