HOME   >   INSIGHTS ON TORONTO  >   RESEARCH AND REPORTS 
Resources to Inform Your Philanthropy
Understanding Toronto's strengths and challenges is the key to informed philanthropy and civic engagement. Our research and reports are designed to surface the data, analysis and voices of lived experience and experts doing the heavy-lifting on the ground.
TORONTO VITAL SIGNS REPORT
The Toronto's Vital Signs Report tracks 10 key quality of life indicators in Toronto.
It serves as an annual snapshot of the trends and issues affecting our city and an actionable tool for policy-makers, community leaders and philanthropists.
Read our 2021 Toronto's Vital Signs Report, with insights from close to 300 community leaders and nonprofit experts. Toronto is not well and we all - donors, caring residents and policy makers - have a role to play to help the city get better.
Watch Vital Signs Videos:
The Good to Give Guide highlights small- and mid-size charities in Toronto tackling the most pressing challenges facing Toronto. They need financial support to scale up their success.
Use the guide to provide direction — and inspiration — to your giving. Read the current issue.
The Trust Collective: Our Shared Journey highlights the three-year collaborative learning journey to advance gender equality, involving more than 50 women philanthropists and women-led and/or women-serving charitable organizations.
A first-of-its-kind campaign for Toronto Foundation, the idea was to share power between philanthropists and charitable leaders to address the issues faced by women and girls in our city and beyond—and reimagine what women-led philanthropy can look like. Read the report
Who you are, where you live and what you earn pre-determine your access to dental coverage and oral health outcomes – more consequences of inequality in Toronto. The working poor are amongst the worst off as they fall between eligibility cracks with incomes too high to qualify for publicly funded services and too low to pay out of pocket. Read the report.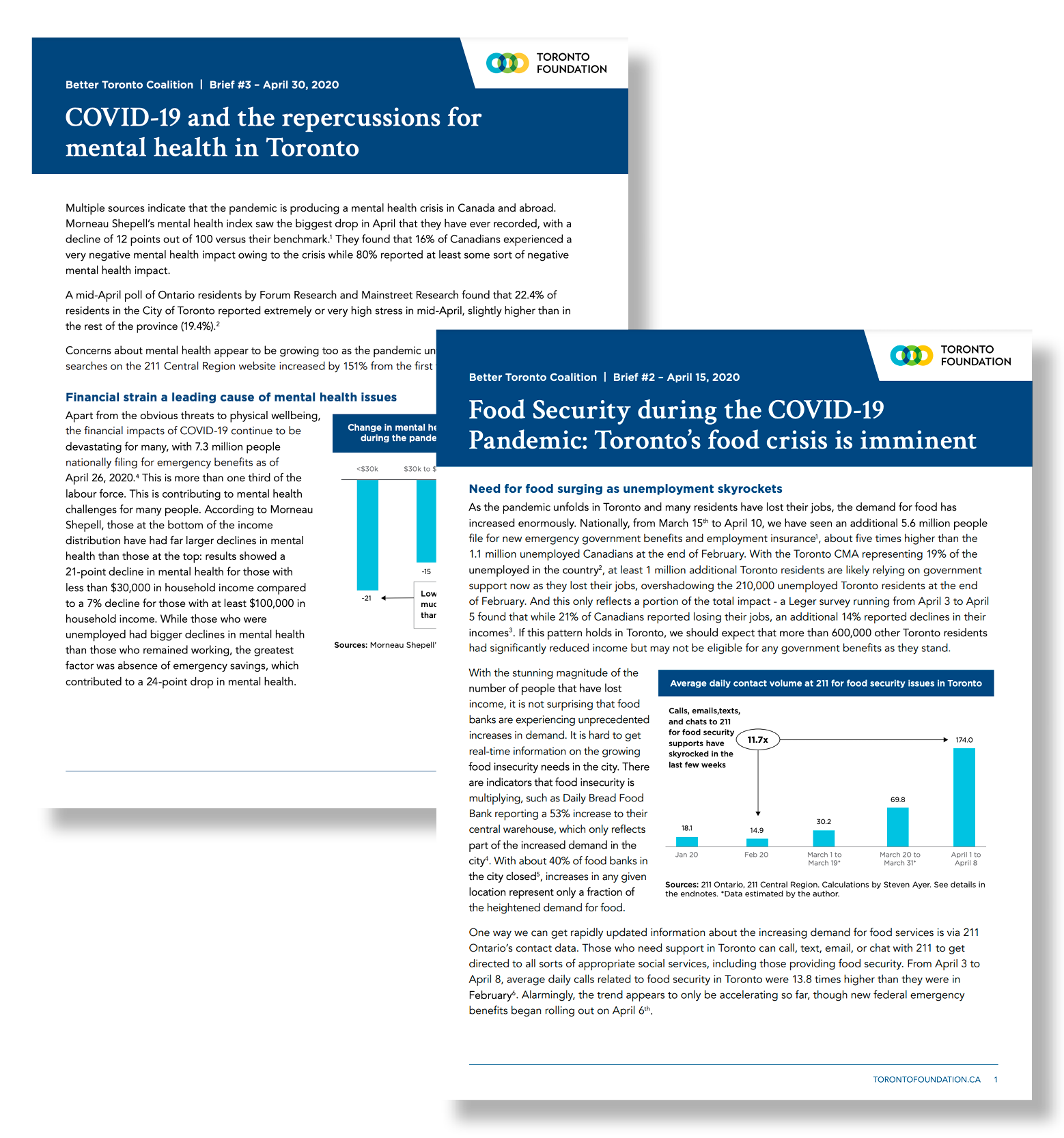 COVID-19 Research briefs that provide data and analysis as trends unfold, and what it could mean for our city.
You Might also be interested in:
THE CONNECTION E-NEWSLETTER
Read the latest news, stories and insights on the city's needs and opportunities; organizations working on solutions; and how to get involved with your philanthropy.