HOME   >   FUNDHOLDERS   >  PHILANTHROPIC TOOLKIT
RESOURCES AND TOOLS FOR FUNDHOLDERS
Bookmark this page of resources. From options to contribute to your fund to the strategic considerations of grant making, use these tools to make impactful decisions that align with your philanthropic goals.
Resources to inform your philanthropy
Below we've highlighted some key resources with tips on how to better align your interests and granting with the city's current needs.
Visit the Insights on Toronto section for a more extensive collection of research, data, perspectives from experts and those with lived experience, and to learn about donation-ready organizations and initiatives.
Tips on Equitable Granting 
Giving guides and data tracking quality of life in Toronto's communities and recommendations on where to give - all to help you broaden your philanthropy.
Hands On Learning
Explore your philanthropic values and optimize a strategy to put your charitable goals in motion. Our learning events are also opportunities meet with fellow philanthropists and city builders.
Our Philanthropic Checklist
We have tips and reminders to support your ongoing philanthropic learning, planning and action.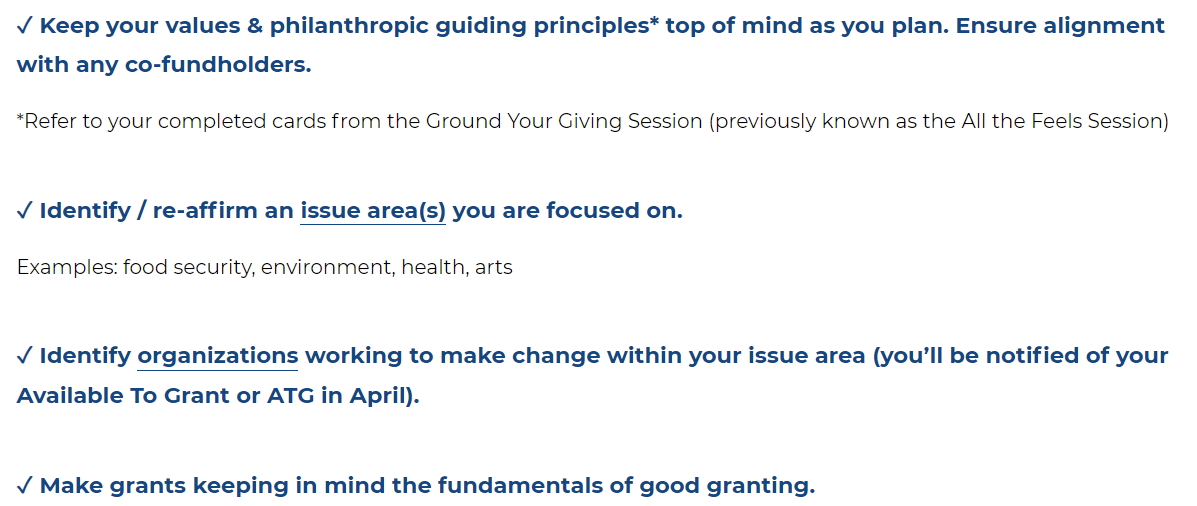 Stories from the community
Read and watch content that spotlights the perspectives of leaders and experts working in Toronto's communities and those with lived experience.
For more information, contact:
Nicole Nunes
Fundholder Engagement Officer
416-921-2035 ext. 218
nnunes@torontofoundation.ca
You Might also be interested in:
THE CONNECTION E-NEWSLETTER
Read the latest news, stories and insights on the city's needs and opportunities; organizations working on solutions; and how to get involved with your philanthropy.