The potential for greater impact is what fuels us every day. 
We run a donor education program to disrupt traditional philanthropic practices including flowing more money to smaller, local and equity-focused organizations; use an action-oriented and equity-focused research agenda; and strive to responsibly invest more of our assets every year. 
Below we list our annual granting results and share some new metrics that will serve as our baselines and motivators. 
GRANTS ARE MADE IN TWO KEY WAYS:
Fundholders grant from funds they've established with us

Toronto Foundation grants from our discretionary funds guided by community needs and opportunities, and Toronto's Vital Signs Report research
OUR IMPACT: WHAT THE NUMBERS TELL US

$0M
TORONTO

$0M
REST OF ONTARIO

$0M
NATIONAL ORGANIZATIONS

$0M
REST OF CANADA

$0K
INTERNATIONAL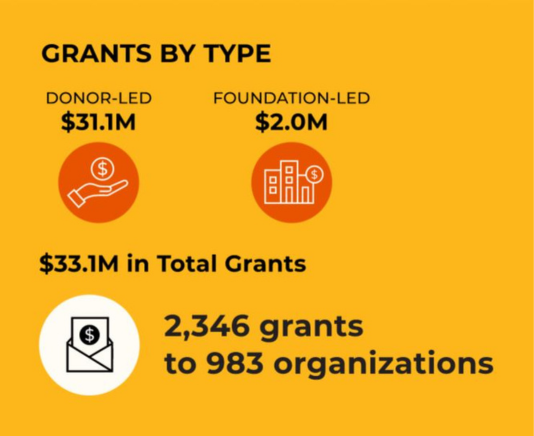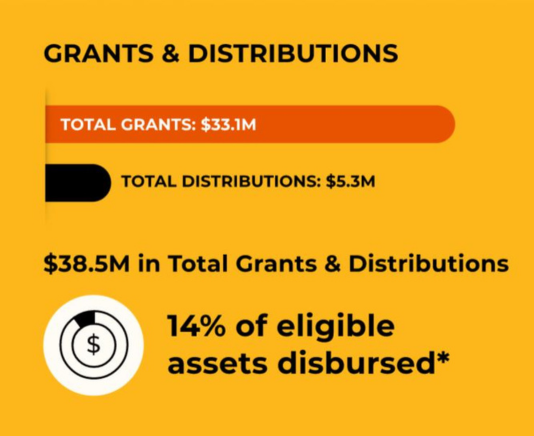 These numbers are from January 1 – December 31, 2022 and have been rounded to one decimal place.
*We exceeded both the Government of Canada's 3.5% disbursement quota and proposed increase to 5%.
SHIFTING FUNDING TO SMALLER CHARITABLE ORGANIZATIONS – THAT TYPICALLY GET THE LEAST
Systems-change efforts, especially those led by smaller groups, are critical, yet often underfunded in comparison to more direct services. We enable fundholders to continue supporting these familiar causes while also encouraging them to diversify their philanthropy to support the high-impact work happening at local organizations.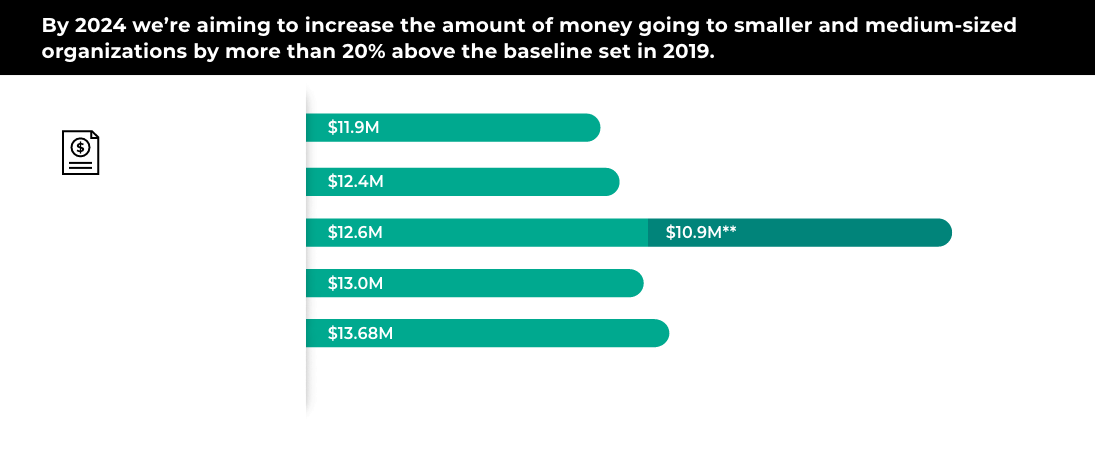 *Nine-month fiscal period, as Toronto Foundation changed its year-end on December 31, 2020
**$10.9M emergency pandemic funding from the federal government and others (Emergency Community Response Fund and Better Toronto Coalition)
For years we've applied an equity lens to granting, but didn't further refine our giving for historically and persistently underserved groups. That all changed in 2020 when we introduced the Black and Indigenous Futures Fund.
The Fund is one response to our shared acknowledgement of systemic inequality and in particular, racism that permeates all aspects of society — including philanthropy. Racial injustice has particularly affected Black and Indigenous communities and warrants actionable and meaningful responses. We've reflected on the fund, our pilot granting to non-qualified donees and the collective impact we realized with our fundholders here. We've also started a fund to enable more fundholders to give to non-charitable organizations this year, in keeping with the direction from the Government of Canada. Read more about the new 2023 Community-Led Change Fund here.
We want to be more transparent about our goal to consistently increase the flow of money to Indigenous and Black communities. Here we're sharing the percentage of total and discretionary funding that went to these groups in 2022. While these numbers are above the norm in philanthropy, we know they are far too low and are actively working to increase them.

*Donor- and foundation-led funding combined.

*Donor- and foundation-led funding combined.
You Might also be interested in: