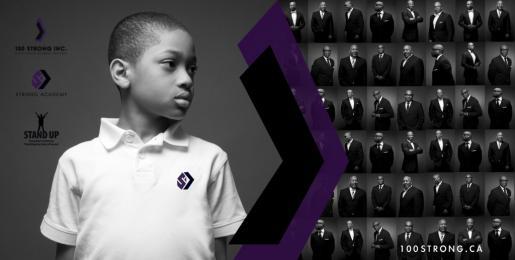 The 100 Strong Foundation was created by a group of professional black men as a way to come together and address issues in their own community, and in particular those affecting young black men. 100 Strong vows to shift the current paradigm within the black community towards one of self-empowerment and success, with the ultimate aim of uniting young boys with supportive mentors. By fostering an environment of learning and community, they aim to inspire excellence in every boy, and raise awareness of the issues they face. They hope to inspire others to join the journey towards self-empowerment, professional development, and the pursuit of "Excellence without Excuses."
The 100 Strong Foundation's first initiative will be a summer school (The Strong Academy) with ongoing programming and engagement throughout the year that will expose these young men to new places, experiences, and career paths.
100 Strong chose the Toronto Foundation as a partner because of a shared passion for our community, and mutual goals that are aligned. Many of the challenges that are brought to light through Toronto's Vital Signs Report, are the very circumstances that affect young black men in pockets of our city. An investment in 100 Strong is an investment in Toronto.
This Fund's granting purpose is subject to change at the request of the Donor Advisor.
To enable the Donor Advisor to properly recognize donors for their contributions, Toronto Foundation will share your contact information and donation amount with the Donor Advisor unless you have checked the anonymous box on the donation form.