A lot goes on in this world we cannot control, from violent and unethical laws to violent and unethical people. When someone faces immediate danger, persecution, and unethical treatment, long-term policy lobbying is not enough; they need specific and immediate aid.
The ASE Foundation was formed to create a lasting endowment to support charities providing this specific and immediate aid.
Instead of simply giving a one-time donation, we endeavored to create something that would endure and grow over time, meaning a dollar put in today will still be producing dividends to support charities years from now.
Our focus at this time is to provide ongoing funds to charities that help LGBTQI2S+ people and people facing human trafficking. While they may collaborate with policy advocates to do necessary long-term work, their day-to-day is helping individuals when they need it most.
The ASE Foundation exists solely to give money in a sustainable, scalable way – 100% of proceeds go directly to charity.
With that in mind, we hope you donate if you're able, whether one-time or ongoing. You will get a charitable tax receipt as a thank you for your generosity, but perhaps more importantly you will be helping provide for necessary charitable work for decades to come.
Generosity from people like you make this all possible, and we value having you join our community of donors.
The Organizations We Currently Support
Rainbow Railroad
Can you imagine living in fear of persecution, torture or murder? Can you imagine going to jail for who you are or who you love?
That is a reality for so many LGBTQI individuals around the world. Since its founding in 2006, Rainbow Railroad has helped more than 800 individuals find a path to safety to start a new life — free from persecution.
The Canadian Centre to End Human Trafficking
Human trafficking is a horrific crime that involves the recruitment, transportation, involuntary confinement, and subsequent exploitation of a person for the purpose of forced labour or forced sexual acts. While this crime disproportionately affects women and girls, anyone can be a victim of human trafficking, suffering physical and emotional abuse, and often living and working in appalling conditions. And human trafficking is not exclusive to impoverished countries; this crime is on the rise in Canada and throughout North America.
The Canadian Centre to End Human Trafficking not only helps those currently facing human trafficking, but also provides education to protect vulnerable populations and prevent this crime from occurring in the first place.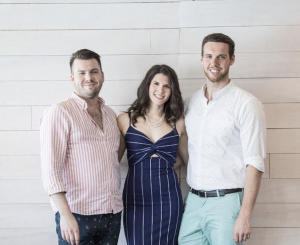 About Us
Adam Palios is an entrepreneur and realtor in Hamilton. A leader in McMaster University's queer students association, Adam has continued to work toward building an inclusive community in Hamilton with events and programming.
Stefan Palios is an entrepreneur and writer in Toronto. Co-founder of LGBTQI2S+ nonprofit Venture Out and leader in multiple other queer organizations, Stefan is focused on helping LGBTQI2S+ people and entrepreneurs succeed.
Emily Palios works in financial services in Toronto and focused her Master's work on post-conflict reconstruction, advancing the rights of migrant women, and protecting young people from human trafficking. She continues to support multiple initiatives centered around anti-human trafficking work in Toronto and internationally.
The ASE Foundation is how we came together to make an ongoing difference for people. Donations from others help us scale that impact even more.
This Fund's granting purpose is subject to change at the request of the Donor Advisor. To enable the Donor Advisor to properly recognize donors for their contributions, Toronto Foundation will share your contact information and donation amount with the Donor Advisor unless you have checked the anonymous box on the donation form.