Whether you're in a big city or a rural area, COVID-19 has exposed some our most serious challenges, like food security and environmental justice. Located on Lake Simcoe in the town of Georgina, ClearWater Farm is an educational farm that aims to deepen young people's connections with the environment. In addition to moving much of their youth programming online through the pandemic, ClearWater Farm has also focused on providing local residents with access to fresh, healthy foods by supporting local food growers.
We spoke with Annabel Slaight, the Founding Chair of Ontario Water Centre and the founder of ClearWater Farm, about their work and impact during COVID-19.
1. How has ClearWater Farm had to adapt its programming and services amid during COVID-19?
ClearWater is a hub for interactive learning about living in harmony with nature and discovering more about the wonderful connections between land, water, food and community.  While COVID-19 has been a nightmare for so many, we're positive that we're able to help our community and deliver on our environmental mission at the same time.
During COVID-19, our kids' camps and classes were shuttered. But with our interactive nature and play activities on our website, over 4,500 kids visited our virtual eco-farm since its launch on Earth Day on April 22. In response to the public's need for fresh, local healthy food being grown at ClearWater, our Young Agripreneurs program is also flourishing through the marketing of farm baskets through a home delivery program.  Currently, seven young farmers are being mentored at ClearWater and we're learning from them every day.

2. Can you tell us a bit about how COVID-19 is impacting your clients? How is ClearWater Farm working to support its clients and their unique challenges right now?
We're helping the community by growing more food than ever, and employing more people to help us do so. We are also helping meet the new demand by buying produce from other local farmers, which helps support local agriculture. We are all helping the community through a Share Your Food program, where donors can help supply beautiful fresh veggie baskets to families in need in Georgina and throughout York Region.
3. What are ClearWater Farm's greatest challenges right now? What are its greatest successes?
While this is a challenging year for everyone, we're mostly optimistic at ClearWater Farm. We're able to help society—alongside the environment and the local economy—in practical ways. People are enthusiastic about learning more about the impact of sustainable living, which is the ultimate goal of ClearWater Farm. Recently, we were awarded $150,000 by the Ministry of Agriculture, Food and Rural Affairs, which will support the experiences we're offering young people who are interested in regenerative agricultural careers. Another thrilling affirmation from this year has been Georgina Island Chippewa Elder Shelly Charles entrusting our "earthkeepers" to help revitalize Gete Okosomin squash seeds that are thousands of years old. People can watch a video we made about that here.
4. As governments start easing restrictions, we are ostensibly entering a period of healing and recovery. How do ClearWater Farm's programs and services enable healing and recovery?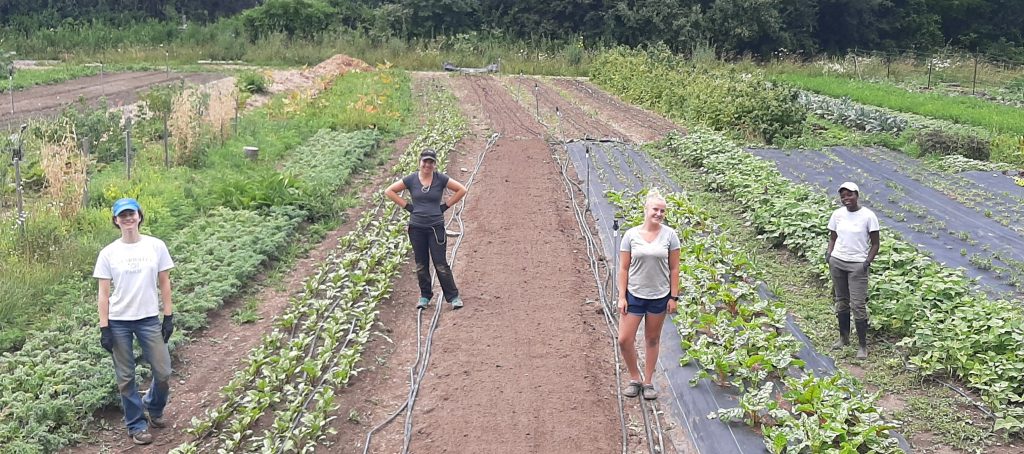 From the very beginning of COVID-19, as inspired by nature, we began planning how ClearWater Farm could help write COVID-19's next chapter: recovery. While we wondered how we'll all be living differently, one of our Young Agripreneurs, Alex Powell, put things so well in this quote: "We are grateful to be part of providing the basics for life, and to have a sense of purpose every morning." We hope to continue helping people find things to be grateful for as we move into this new world we're living in.
5. What do we need to do to ensure we make an "equitable recovery"?
For people of all ages, and all situations, connecting with the natural world can help with recovery. Learning and drawing strength from nature can help us work out ways to help it, too. The third season of an online video series we have called "ClearWater Kids Challenge" is going into production this year with Shaftesbury films and is another way we're helping our community. We feel that this virtual work will be helpful for schools looking for innovative ways to involve kids and even parents at home.
Helping to nurture and inspire young people is our focus and our main contribution to society. "Difficult roads often lead to beautiful destinations," some wise person once said. We can't say it any better!
6. Is there anything else you want donors to know?
ClearWater Farm, in Willow Beach of the Town of Georgina, is now in its fourth year of operation on the shores of Lake Simcoe. We're bringing to life a historic farm that was in the same family for 180 years. ClearWater is the flagship initiative of the Ontario Water Centre, an educational charity. We invite everyone to learn more and even join us by being a part of our exciting and innovating work underway at our website!