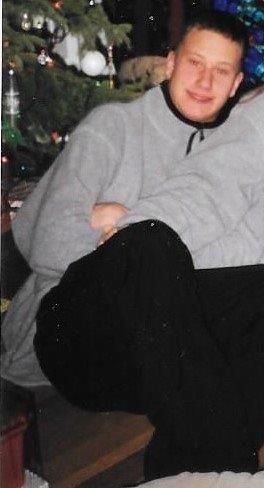 In the late summer of 1983, Paul and Ruth became the proud parents of an angelic little boy. As a toddler, his cherub's face, soft flaxen curls, and sweet disposition could warm even the coldest heart. He truly loved people and was always a pleasure to be around. His parents signed him up for sports throughout his childhood, T-ball, soccer, then football and hockey. He was quite the athlete, although we had our doubts when watching him play soccer at about six years old. He stood at his position, with his back to the play, kicking the dirt or checking out the trees and sky but never really interested in what was going on in the game. His real sportsmanship was displayed on the sidelines where he chatted and joked with his teammates totally oblivious to the highs and lows of the game. And he made lifelong friends through sports.
His warmth, kindness, mischievousness, and generosity of spirit stayed true as he grew into a handsome young man. He never forgot a friend, no matter how many years passed or how far away someone was, Gregg always kept in touch. Even people he knew only for a short time, he would remember. He cared so much for his family and friends. Despite all his own troubles, he was always there for the people he loved. We all knew him as "the one to see in times of woe." He would always listen. He was a shoulder to cry on, and a reassuring voice in the dark. It didn't matter what kind of predicament he or his friends found themselves in, one thing was a constant: Gregg had our back. He was a pit bull. Tenacious, on the ball, and there was no giving up. Gregg didn't even get the concept. His friends and family were always there to reciprocate. He was a Homeboy, in every sense of the word. To the people who knew him well, he was "home" personified, he was comfort and shelter during a stormy night. He was the gentle sense of elation and satisfaction that comes to us when we are happy to be where we are and who we are with, and he still is. He always will be. He truly understood what it meant to be a friend.
He wasn't shy, even those he only met in passing were left smiling and intrigued. Those who did have the privilege of getting to know him better, were rewarded with love, laughter, and loyalty.  His humour was dry and often relentless. If he wanted to, he would keep joking long after the joke ran thin and you were ready to throttle him, but he would keep it up until you were laughing all the harder. Try to give him grief and he would respond with 'Whatever's Clever'. And you couldn't stay mad at him.
Like any of us, Gregg had his passions. Anyone who knew him, his greatest passion was cars – ok he loved women too. Back to the cars. He was a Ferrari fanatic, even planning to purchase one tire by tire. What imagination and single-minded determination!!!
His imagination served him well as an artist. His preferred art form was graffiti which would cover his walls and furniture in his bedroom and Lord knows where else. The intensity of colour, line, and detail demonstrated a wonderful creativity he refused to acknowledge. It also sadly reflected his suffering, the internal pain and anguish belied by the tall, healthy, and handsome young man. For Gregg spent nearly half his life in and out of doctors' offices and hospitals, fighting an illness that neither government nor the medical profession nor society for that matter would provide the necessary treatment, respect, or support.
Death is but a distant rumour to the young, yet it became a tragic truth for our beloved Gregg.
We have set up this fund to celebrate his life and at this time we will use these funds to donate to charities each year that support youth and mental health.
Gregg, your life was not in vain, you were loved and admired, your radiance was felt by all, your death will not be in vain.
This Fund's granting purpose is subject to change at the request of the Donor Advisor.
To enable the Donor Advisor to properly recognize donors for their contributions, Toronto Foundation will share your contact information and donation amount with the Donor Advisor unless you have checked the anonymous box on the donation form.