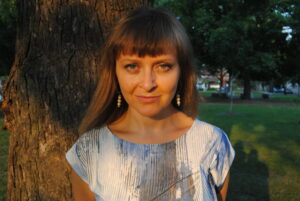 Teva Harrison was an award-winning author, artist, and self-described "creative person." 
She was diagnosed with metastatic breast cancer at age 37, and spent the last five years of her life tirelessly advocating for more research funding, social programs, and community supports for the women like her who needed it. Research and support for metastatic breast cancer (MBC) is chronically underfunded, despite how common it is among women.
Teva vowed to spend as much of her time and money as she could to support MBC causes that were making a positive difference in lives like hers. She did that, while also living her final years filled with joy and wonder, exploring the world, writing and drawing, and spreading delight with everyone who met her.
Teva died from cancer in 2019, but this fund will give money in her name to the causes she cared about forever. Your donation will keep Teva's name, legacy, and impact alive forever.
To learn more about Teva, please visit www.tevaharrison.com . Please donate to this fund by clicking below.
This fund is managed by Teva's husband, David Leonard.
This Fund's granting purpose is subject to change at the request of the Donor Advisor. To enable the Donor Advisor to properly recognize donors for their contributions, Toronto Foundation will share your contact information and donation amount with the Donor Advisor unless you have checked the anonymous box on the donation form.