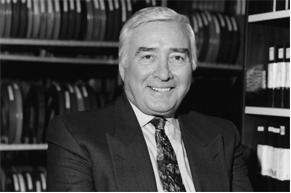 Don Haig turned his love of film as a boy in Winnipeg into a lifetime of filmmaking that spanned over fifty years in the Canadian film and television industry. He began in the editing room and moved into producing. His extensive co-producer and executive producer credits include shorts, features, and documentary films that screened at festivals from Yorkton, Saskatchewan to New York, Berlin, and Cannes.
Don was widely recognized for his contributions to film and television in Canada. Among the many honours he received were an Honourary Degree from York University, the Hot Docs Special Achievement Award and the prestigious Governor General's Performing Arts Award.
Throughout his life, Don gave generously to emerging filmmakers – his time, his knowledge, his money, the use of the editing facilities he had built, and his faith in the filmmakers and their talent. He considered it a privilege to do so.
In memory of Don, his passion for film, and his devotion to assisting filmmakers, a permanent legacy has been established by Don's lifetime companion Bill Schultz, Don's family, colleagues, and the filmmakers he so vigorously supported, to provide an annual award to an emerging filmmaker.
For more information please go to www.donhaig.org.
This Fund's granting purpose is subject to change at the request of the Donor Advisor.
To enable the Donor Advisor to properly recognize donors for their contributions, Toronto Foundation will share your contact information and donation amount with the Donor Advisor unless you have checked the anonymous box on the donation form.