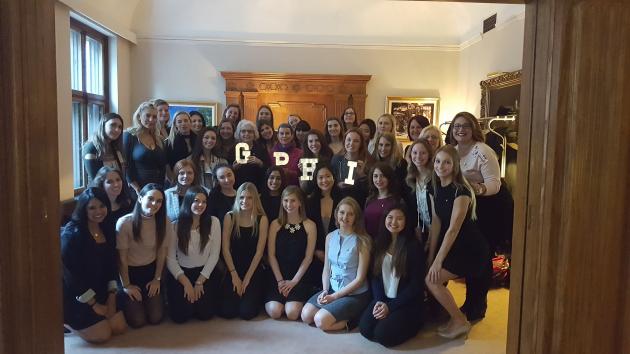 Gamma Phi Beta approved the establishment of the Gamma Phi Beta Foundation in 1958 at its 48th biennial Convention in Victoria, B.C.  It was incorporated as is a not-for-profit corporation in 1959 to support and implement the philanthropic and educational goals of the Sorority. Due to the generosity of our members and friends, the Gamma Phi Beta Foundation's commitment to support and inspire the lifelong development of women has never wavered. Our focus is on impacting members with our leadership initiatives, upholding our philanthropic endeavours and providing financial aid for educational success. Gifts to the Foundation secure the Gamma Phi Beta legacy for future generations.
The Gamma Phi Beta Alpha Tau Scholarship Fund  was established with the Gamma Phi Beta Foundation to support an undergraduate financial aid scholarship for members of the Sorority attending McGill University. Gifts to the Fund will make a difference in the lives of these women and will enable them to pursue their academic goals. All gifts over $25 are tax receiptable and will receive gift recognition credit with the Gamma Phi Beta Foundation.
Canada is an important and vital part of the Gamma Phi Beta sisterhood. There are several active collegiate and alumnae chapters across the country. To learn more about Alpha Tau chapter at McGill, visit www.gammaphimcgill.com

For questions about this Fund or the Toronto Foundation, please contact Lauren Rosenfeld at 416-921-2035 ext. 218.
This Fund's granting purpose is subject to change at the request of the Donor Advisor.
To enable the Donor Advisor to properly recognize donors for their contributions, Toronto Foundation will share your contact information and donation amount with the Donor Advisor unless you have checked the anonymous box on the donation form.