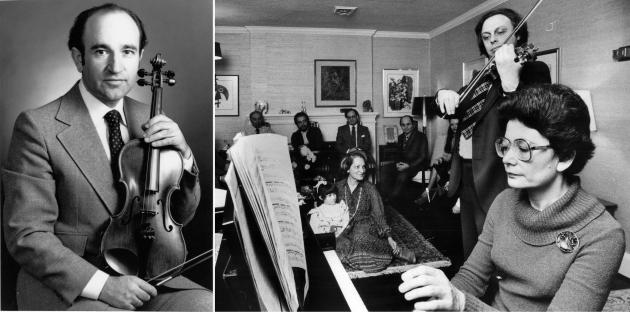 The Geringas Scholarship will contribute to the education of gifted and committed young musicians in the Toronto area, aged 12-17. The scholarship will be awarded in partnership with a music festival or competition, and will allow recipients to study with the teacher of their choice, at any musical institution.
The prize is named after musicians and teachers Marina and Yaakov Geringas, recognizing their contribution to music education.
Marina and Yaakov came to Canada from the Soviet Union in 1975, and quickly became mainstays in the classical music community in Toronto.
Yaakov played violin in the Toronto Symphony, and taught at the Royal Conservatory of Music, where he directed the Junior Orchestra. Although he died in 1990, his book Shifting: Thirty Progressive Studies for Violinists is still popular among teachers and students today.
Marina, a pianist, soon developed a reputation as one of Canada's top music teachers. Her students at the Royal Conservatory went on to study at Juilliard, the Curtis Institute, Yale, and other top institutions, and to international careers as performers and teachers. Her piano pedagogy course at the University of Toronto Faculty of Music, as well as her teaching workshops, influenced literally hundreds of teachers.
Marina Geringas, 1939-2016 Yaakov Geringas, 1938-1990
This Fund's granting purpose is subject to change at the request of the Donor Advisor.
To enable the Donor Advisor to properly recognize donors for their contributions, Toronto Foundation will share your contact information and donation amount with the Donor Advisor unless you have checked the anonymous box on the donation form.