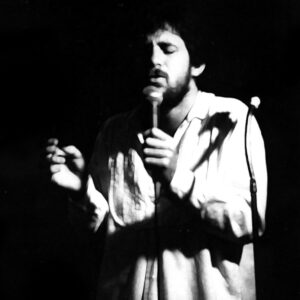 A prolific writer and composer for 20 years, Greg died at the age of 35 on April 10, 1989, following a brief illness with brain cancer. He was loved by his family, friends, colleagues and fans, and is fondly remembered as an extremely talented and dedicated professional with a wonderfully positive attitude.
Greg performed in the Canadian musical theatre scene for 10 years, most notably as Rum Tum Tugger in CATS during its initial Toronto run. But his first love was songwriting, and his legacy ranges from the folk songs of his teenage years to later compositions that reflected his passionate concerns about the environment. To keep Greg's spirit alive, we produced an album of his music and posted the songs and lyrics on his memorial website for everyone to enjoy.
Generous donations made in Greg's honor enabled us to set up the Greg Bond Musical Theatre Fund, which has awarded annual scholarships since 1991. We are proud to celebrate his memory through our primary granting focus of recognizing students, individuals and organizations for their outstanding contributions to Canada's musical theatre community. Thank you for your continued support!
This Fund's granting purpose is subject to change at the request of the Donor Advisor. To enable the Donor Advisor to properly recognize donors for their contributions, Toronto Foundation will share your contact information and donation amount with the Donor Advisor unless you have checked the anonymous box on the donation form.