The concept of chosen family – or close relationships with people and groups you aren't biologically related to based on love, commitment and mutual aid – has long been one of the ways in which people find support and create community. For LGBTQ2S+ communities in particular, chosen family has often been equally as important, and in many cases more so, than the family you're born into. 
When Emma Lewzey and Ingrid Randoja – couple and Toronto Foundation bequest donors – began the process of creating a will, they wanted their legacy to be a continuation of their lifelong advocacy for equity and safety for LGBTQ2S+ communities.  Below, they talk about why it's especially important for members of equity-deserving groups to lay out their wishes in a will, how they balanced their priorities in their giving, and why they hope their legacy is a love letter to the communities and people that mean the most to them.  
Why is it important for members of equity-deserving groups to have a will?
Emma: Wills are especially important for those of us who may have less protection under the law, which was the case when we first got together. We wanted to make sure that we were protecting ourselves in a way that the state may not be interested in protecting us. 
It's so important to take control of that and make sure that your wishes are being observed, because when people in our situation die without a will the repercussions of that can be significant.  
Ingrid: Even just in the years since we set this fund up there's been such a sea change towards more hatred and more unpleasantness towards LGBTQ2S+ communities. So we need to make sure our wishes are protected. 
How did you find the balance between looking after your loved ones and the causes that you care about?
Emma: We've made specific gifts in our wills to our family members and we are then putting the remainder of our estate into a fund. I also think for us the notion of chosen family is really important. There's family beyond our family of origin that we want to take care of as well. 
Why did you choose Toronto Foundation to help you create your bequest agreement?
Emma: Toronto Foundation enables us to centralize our giving, while supporting a lot of charities that we care about. We can decide on generally where we want to direct the funds, but we don't have to make choices between specific charities. We've been specific that we want to support organizations serving LGBTQ2S+ communities, but beyond that we've kept it quite broad. At the end of the day we have trust in the folks who have the greatest expertise in this work and who are actually doing the work, which we found in Toronto Foundation.  
What do you hope your legacy says about what was important to you in life?
Ingrid: I would like it if in the future someone who benefitted from our fund would see these two women's names and know that we cared about our communities, and that it inspires that person to do the same one day. And I hope it continues: more people inspired and giving back, so that legacy just grows.  
Emma: Equity and an equitable future for the people in LGBTQ2S+ communities. I really hope that Toronto will be a welcoming place like it has been in the past and that we don't turn our backs on broader issues. We have to guard our future carefully. Anything that we leave behind to guard the future is crucial. It's not just lovey-dovey. It's feet-on-the-ground and making sure that we can keep our communities safe and thriving.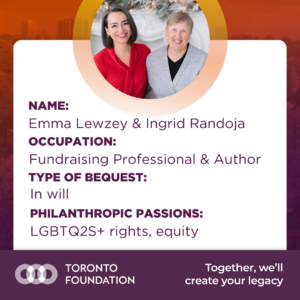 Your Legacy is as unique as you are. Let us help you make your mark.
Together we'll customize your legacy gift to the charitable sector.  Learn more about our bequest program here or connect now with director, growth strategy Nicola Hives.