Hi!  We're Nadia and Darrick Heyd.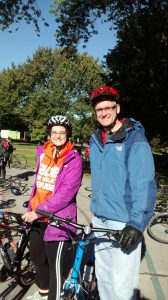 We've been involved in Refugee Sponsorship in Toronto for a few years and we invite you to get involved with us in making a world of difference in people's lives.  We really hope you will, because it's an amazing and joyful feeling to know that your contribution can change the course of someone's life. 
When you donate to The Nadia and Darrick Heyd Refuge Fund at Toronto Foundation, your gift will support registered Canadian Charities who help refugees and asylum seekers get to better places, and build better lives. Right now we are focusing on sponsoring a family of six.
Rebecca and her children fled armed conflict in the Republic of Congo. After a dangerous journey, they ended up in South Africa, unable to attain citizenship or even refugee status, and have few rights – despite many years of trying. Jonathan, who is 15 (far right in the photo), has a frightening medical condition, and access to only the most basic medical care
The Ottawa South Committee for Refugee Support, working together with Trinity Anglican Church has some very kind-hearted and experienced sponsorship volunteers who are ready and willing to welcome people like Rebecca and her family, and support them in many ways as they prepare to come to Canada to begin to build a better life here. Nothing would make this family happier than to become Canadians, with all the rights and responsibilities that entails.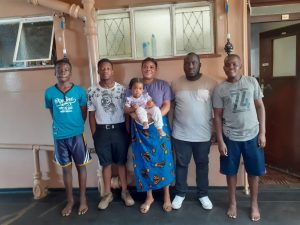 Please join us in making the world a more hospitable place for people like Rebecca and her family who have been through SO much and deserve – as much as anyone – a proper home and a good life.
Please donate to the Heyd Refuge Fund today using the form below!
A note: We donate to a variety of charities who support people seeking refuge. Right now, we're most actively working to welcome Rebecca and family. Once we raise enough for this sponsorship, we'll offer support to other causes. For more information and other ways to get involved (run, bike ride, World Refugee Day event, etc.), please see www.nadiaheyd.ca

To enable the Donor Advisor to properly recognize donors for their contributions, Toronto Foundation will share your contact information and donation amount with the Donor Advisor unless you have checked the anonymous box on the donation form.