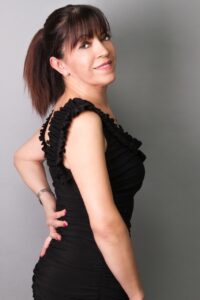 Who She Was
Filomena (Mena) Ricardo Mari was a woman of compassion, courage and hope.
Mena was born in Sao Miguel, Azores, and proudly shared stories about her roots. She was the youngest of 5 girls, and shared special a bond with her twin sister Fatima. She immigrated to Canada when she was 16 years old to help her family financially, and fully embraced Canada as her new home. She was married 45 years, and showered her 3 kids and 7 grandkids with unending love ( and food, she loved cooking!).
Mena was inspirational, selfless, strong and above all, always stayed positive. Her energy was contagious, her humour was constant and she believed in others when others didn't believe in themselves. She used love as motivation and her positive energy to make people feel happy. Mena was always the life of the party, and brought out the best in and from everyone around.  In short, she was awesome.
Remembering Her Legacy
Created as an act of love to honour her, the Ricardo Mari Family Foundation is a permanent legacy providing annual grants towards charitable causes, which characterized important aspects of her life (such as hunger, children and health).
While Mena's dream was to establish a permanent way to give back, she was called to heaven too soon. Her spirit and giving nature will now live on through this foundation and your donations will keep Mena's name, legacy, and impact alive forever.
In the future and as the foundation grows, her family will ensure this legacy continues and that the tradition of giving back is carried on through generations.
Donating
If you would rather contribute with a cheque, please make the cheque payable to "Toronto Foundation" and reference "Ricardo Mari Family Foundation" in the memo line.
Please mail the cheque to:
Ricardo Mari Family Foundation
c/o Toronto Foundation
33 Bloor Street East
Suite 1603
Toronto, ON
M4W 3H1
This Fund's granting purpose is subject to change at the request of the Donor Advisor. To enable the Donor Advisor to properly recognize donors for their contributions, Toronto Foundation will share your contact information and donation amount with the Donor Advisor unless you have checked the anonymous box on the donation form.