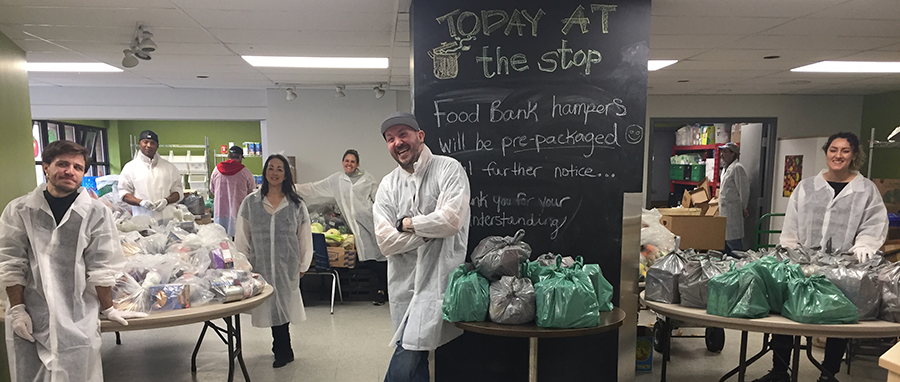 As we reported in our latest research brief, there is an imminent food crisis in Toronto amid COVID-19. As one of Canada's first food banks, The Stop Community Food Centre offers a broad range of programs that provide healthy food, foster social connections, build food skills, and promote civic engagement. On April 13, we spoke with The Stop's executive director Leigh Godbold about their experiences during COVID-19, and the critical need for food security programs now more than ever.
1. How has the Stop adapted to accommodate the changing needs of the community?
When the pandemic broke, we made the hard but necessary decision to suspend our community programs and focus our work on emergency food access — including fresh and healthy takeout meals and long-lasting food bank hampers — and we swiftly implemented procedures to keep everyone safe.
While food access is our top priority, access to information and support is also vital to our community members. We've kept our Community Advocacy Office operational as a phone line. Our trained Community Advocates, who themselves have lived experience of poverty and food insecurity, are answering our client's questions and providing referrals to services like nearby shelters, applying for benefits, and accessing mental health supports.
2. How many more people have you served in the last four weeks?
We've seen a dramatic increase over these last few weeks. Before the pandemic, we served around 200 meals a day in our Drop-in space. Now, we're averaging 350 takeout meals a day, and on Thursday, April 9, we served a staggering 400 meals.
Our Food Bank is also experiencing an increase in demand—particularly among first-time clients and those outside of our catchment area. We're now averaging about 100 hampers a day, with 30 of these going to households who'd never accessed our Food Bank before. About 20 of these new households are travelling from outside of our neighbourhood. These numbers tell us that hunger is growing in our city, and due to a lack of local food services, that it's on the move.
3. Do you have a sense of how many more new clients will ask for your help in the coming weeks and do you have capacity to support them?
At the rate we've been seeing—and as more and more Torontonians are laid off—it's likely that demand for our meal programs will continue to increase by about 10% weekly. Likewise, we'll continue to add about 30 first-time clients to our Food Bank per service.
The Stop has had to drastically reduce the amount of staff and volunteers in our spaces for safety reasons, but at this time, our incredible team is equipped to meet this growing need. Our staff and volunteers are also working limited shifts so that individual team members aren't overworked.
But other resources are greatly needed. The Stop creates our meals and hampers using the food donations we receive and fresh, local ingredients we purchase with our fundraising dollars. As demand increases, and our traditional restaurant partners struggle themselves, we can no longer rely on this steady stream of in-kind donations. Likewise, COVID-19 has required us to cancel two of our largest annual fundraising events (Big Night at The Green Barn and The Stop's Night Market), and we'll have to work hard to make up this large hole in our budget.
4. What happens if these restrictions last six months?
As a sector, we'll have to get more creative about how we serve our community. Many of our models rely on people coming to our doors. We'll need to work with new partners in the private sector, and deepen our relationships with governments, to ensure that we can reach people where they're at.
Similarly, we can't rely on charity to do this work alone. The quickest, most efficient, and most dignified way to eradicate food insecurity is to provide people with the income they need to afford food in the first place. Canada's governments have already made promising steps to financially support Canadians. We need to see these benefits increased and extended to people who were already struggling before COVID-19 to reduce the load on the charitable sector and keep Canadians fed and healthy.
5. Are there particularly vulnerable groups you're worried about?
The current public health requirements are completely inaccessible to thousands of low-income Torontonians. To isolate yourself, you need adequate housing. To take a sick day, you need to know you'll get to keep your job. To stockpile food and supplies, you need to be able to afford these essentials in the first place. For our neighbours who are experiencing precarity in housing, work, and income, this pandemic is simply exasperating the existing crises they were already facing. And as so many drop-in and shelters have had to reduce their hours or levels of service, they have far fewer places to go and people to turn to.
I'd like to note that racialized Torontonians—especially those from Black and Indigenous communities—already face deep inequities in their rates of food insecurity. Systemic racism has hindered their ability to access decent work, good food, and stable housing. This pandemic will hit them the hardest, and policies to address the damage will need to maintain an intersectional lens that prioritizes these communities.
6. What in kind support is useful right now and for what resources is money most needed?
As always, financial donations are the most effective way to support community-based charities. They allow us to purchase exactly what we need, when we need it, and to avoid the time and expense associated with sorting and storing in-kind donations.
Financial support also funds all the crucial expenses associated with running an organization. As a sector, we often say things like "$2 will feed a hungry person," but what goes into that $2? At The Stop, we take pride in seeking to avoid replicating the culture of precarious work that so many of our community members are saddled with. Our front-line staff are trained professionals, and they, like everyone, deserve to work in an environment that supports their physical and mental health. Financial donations enable us to keep our staff equipped with the tools they need to do this work.
7. What do you want Torontonians to know about food security right now?
The COVID-19 pandemic is drawing into stark relief how many of us are one missed paycheque away from using a food bank. 1 in 8 Canadian households were food insecure before this pandemic began, and in six months, we know this number will be much higher.
Hand-outs of food have never been the answer to poverty, and they certainly aren't now. As we do this vital work, we'll keep raising our voices to ensure that food charity doesn't become the new normal, and we'll keep pushing for more resources and stronger protections for our most vulnerable community members.
The major silver lining of this crisis is the groundswell of solidarity and mutual aid that we're seeing in our communities. If we can take this energy and translate it into a national desire for systemic change and more supportive social policy, then we can finally take bold steps to eradicating food insecurity in Canada once and for all.
Learn more about The Stop Community Food Centre.