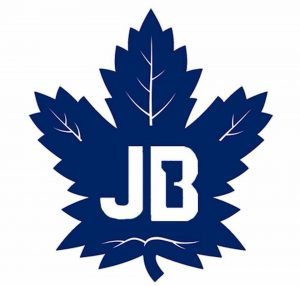 The Johnny Bower Foundation was established by the family of the legendary hockey goaltender after his passing in December 2017 to continue his legacy of supporting charities across Canada.
In 2010, JB was honoured by the Government of Ontario with an Ontario Senior Achievement Award for his long-term commitment to charitable work in the Province.
In 2007, he was made an honorary Anishinabek Grand Chief for his support of the Anishinabek Nation 7th Generation Charity and was the only honorary Chief in the history of Peel Regional Police.
His generosity supported causes such as children's advocacy, public safety, Canadian service people, the advancement of Aboriginal people, health, wellness, the environment and animal protection.
Contributions to the Johnny Bower Foundation will ensure that these causes continue to be supported.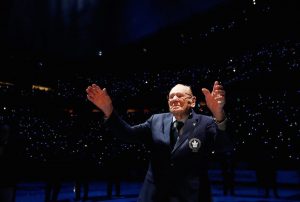 Johnny Bower Biography
Born in November 1924 in Prince Alberta, Saskatchewan, Johnny Bower is a member of the Hockey Hall of Fame (1976), American Hockey League (AHL) Hall of Fame (2006), Saskatchewan Sports Hall of Fame (1988), Ontario Sports Hall of Fame (1999) and the Canada's Sports Hall of Fame (1999). He was also awarded a star on Canada's Walk of Fame in 2007.
He played 13 seasons in the minor leagues before embarking on a 13-year NHL career with the New York Rangers and Toronto Maple Leafs, backstopping the Blue and White to four Stanley Cup championships in an eight year period.
But his true legacy is his community involvement.
He was renowned for taking the time to talk with fans, sign autographs and lend his name to fundraisers across the country. He has inspired generations of Canadians to give back to their community and his legacy continues with the Johnny Bower Foundation.
To donate online: Please use the form below.
To donate by mail: Gifts of cash (cheques, money orders, etc.) can be mailed to:
Toronto Foundation
33 Bloor Street East
Toronto Ontario
M4W 3H1
Cheques can be made payable to Toronto Foundation, with Johnny Bower Foundation noted in the memo line.
This Fund's granting purpose is subject to change at the request of the Donor Advisor.
To enable the Donor Advisor to properly recognize donors for their contributions, Toronto Foundation will share your contact information and donation amount with the Donor Advisor unless you have checked the anonymous box on the donation form.