Vital Youth 2017-18
Vital Youth supports charitable organizations in the city of Toronto that are working to increase access to high quality recreation activities for youth aged 12-18 years. Funding of up to $15,000 has been awarded to programs that meet the Vital Youth priorities with year-long grant activities that start as early as September 2017.
Recreation activities include sports, fitness, outdoor education, arts, and cultural activities.
Vital Youth priorities include:
Increasing Access: Enabling long-term participation by youth who might not have access due to cost or other barriers.
Encouraging Diversity: Providing inclusive programs and engaging various ethno-cultural communities to interact, play, and learn together.
Developing Leadership: Encouraging leadership, mentoring, and decision making by youth in program development and/or implementation, and/or providing opportunities for young people to gain paid employment.
We received a total of 67 applications. The following 10 grantees are receiving grants of up to $15,000 each from Toronto Foundation.
Congratulations to this year's Vital Youth grantees!
Access Alliance Multicultural Health and Community Services
Access Alliance provides services to address system inequities and improve health outcomes for some of Toronto's most vulnerable immigrants, refugees, and their communities across Toronto. Access Alliance supports people who face barriers to good health by providing them access to high quality programs and services ranging from primary health care, settlement services, translation services, and programming for women, the LGBTQ* community, marginalized youth and more. This year, Access Alliance is expanding its youth sports and recreation program to offer instruction, snacks, transportation and gear to 50 underserved youth. Learn more at www.accessalliance.ca.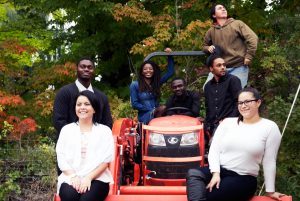 Black Creek Community Farm
Toronto's largest urban farm, Black Creek Community Farm (BCCF) serves and enriches the Jane-Finch community by growing healthy food and offering hands-on training and learning experiences. Founded by the Everdale Environmental Learning Centre, FoodShare and African Food Basket, the BCCF focuses on improving food security, reducing social isolation, and improving employment and education outcomes. This year, the BCCF will hire youth interns to build their knowledge of food systems, increase their employability skills, and expose them to opportunities in the food/agribusiness sector.
Learn more at www.blackcreekfarm.ca.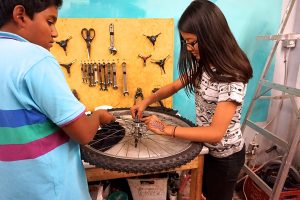 Charlie's FreeWheels
Charlie's FreeWheels (CFW) runs bicycle-based programming to build condence and leadership skills in youth and drive positive social change. By teaching bicycle mechanics, offering weekly group rides through the city, hosting eld trips, and hiring program alumni, CFW is supporting the development of empowered young leaders engaged with cycling issues in Toronto. This year, CFW will offer additional training opportunities to youth enrolled in their fall programs, as well as employment opportunities for past program participants, to build transferrable skills and increase their employability into the future. Learn more at www.charliesfreewheels.ca.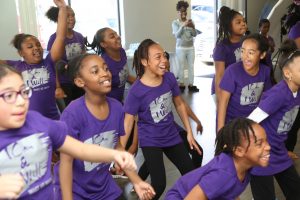 Frontlines
Frontlines offers programs and services that tackle the pressings needs of children and youth in Weston and the surrounding neighbourhoods. By building relationships and providing programs that address the whole child, Frontlines fosters and restores wellness and respect among diverse people. This year, Frontlines and the Self-Love Youth Empowerment Project are jointly running a wellness program for girls designed to build their physical and mental wellness. Learn more at www.frontlines.to.

Jane/Finch Community and Family Centre
The Jane/Finch Community and Family Centre is a multi-service, community-based organization working to reduce poverty through resident engagement, capacity building and anti-oppression. The Centre builds health and well-being in the Jane and Finch community through programs focused on children, youth, seniors, mental health, newcomer settlement and financial empowerment. Its youth program which runs out of Westgate Mall has considerable credibility among local youth, having been in place for many years. The program empowers and inclusively engages youth to support the governance of the space and activities, giving youth partial ownership of program spaces and authority of programs offered. Learn more at www.janefinchcentre.org.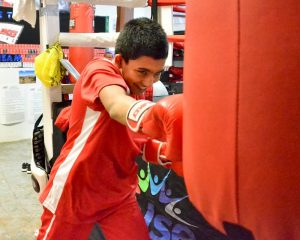 Mentoring Juniors Kids Organization
Mentoring Juniors Kids Organization (MJKO) uses non-contact boxing training and leadership programs to promote positive and healthy lifestyle choices for youth in several of Toronto's underserved neighbourhoods. Through athletic training programs, youth develop social and mental skills, learn about nutrition, and become committed to the non-boxing community. This year, MJKO will expand its youth sport training program by giving youth alumni more opportunities for employment and coaching certification. Learn more at www.mjko.ca.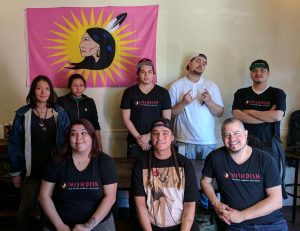 Native Child and Family Services of Toronto
Native Child and Family Services Toronto (NCFST) is a multi-service Indigenous agency providing services to improve well-being, caring, and healing for Indigenous families in the GTA. NCFST uses a holistic, culture based approach to all its programs and services, and is a Children's Aid Society under the Child and Family Services Act. This year, youth participating in the NCFST's culinary entrepreneurship program will take part in culture-based, interactive workshops and build professional skills in commercial kitchens operations, the food services industry, and small business management. Learn more at www.nativechild.org.

The Neighbourhood Group
The Neighbourhood Group is a multi-service agency improving and enhancing peoples' lives and helping them live independently and with dignity. The Neighbourhood Group's programs and services support seniors, at-risk children and youth, those who are searching for employment, people who are homeless or precariously housed and people with mental health challenges living in Toronto's east down-town area. Neighbourhood Group's youth program, KickStart Crew, is a popular, youth-led initiative where participants drive the program agenda. One key focus is an interactive cooking segment that includes meal planning, budgeting, food safety, and food preparation. Youth learn how to cook healthy meals and are able to take them home to share with their families, or serve them to the younger kids in the program. Learn more at www.theneighbourhoodgroup.org.

Scadding Court Community Centre
Scadding Court Community Centre (SCCC) supports and fosters the well-being of individuals, families, and community groups by providing and encouraging both local and international opportunities for recreation, education, athletics, community participation and inclusive social interaction. The SCCC's programs and services are geared toward under-served, culturally diverse groups including low-income women, children and families, newcomers, at-risk youth, people with disabilities, older adults, seniors and people who are unemployed. This year, the SCCC opened a weekly youth-dedicated space to facilitate mentorship, leadership development, and health and wellness for local at-risk and newcomer teens. Learn more at www.scaddingcourt.org.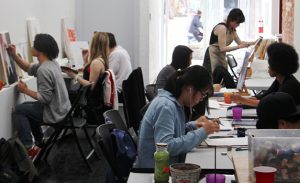 St. Stephen's Community House
St. Stephen's Community House (SSCH) works with individuals and communities in the City of Toronto to identify, prevent and eliminate social and economic inequality by creating and providing a range of effective and innovative programs and services. SSCH addresses issues including hunger, homelessness, unemployment, isolation, violence, HIV and AIDS, youth alienation, and newcomer integration. Recently, SSCH opened the Youth Arts Studio in Kensington Market to provide low-income youth from the neighbourhood with free, high-quality art instruction classes, instrumental music classes and gym-based recreation activities. Learn more at sschto.org.