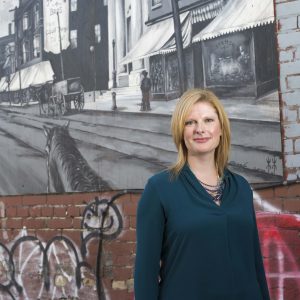 Over the last few months we've been making some changes at Toronto Foundation. You may be curious about what we've been up to, and we think it's time to pull back the curtain!
You'll already know from our announcement last month that we have quite a few staff changes and promotions. You can read about those in detail here. We welcomed Brenda Lee-Kennedy and Dennis Mitchell to our Board of Directors. Read their bios here. Two weeks ago we premiered our Misconceptions: Myth-Busting Philanthropy video. And some of you will have seen highlights from our Vital Toronto event and our CityViews Tour.
Do we seem a little different?
Well, we are. For starters, we've clarified some essential things about ourselves.
I would like to present our new vision:
A city of informed, engaged philanthropists accelerating meaningful change for all.

And for the first time we have defined our values:
Brave, thoughtful action.
Humility in our relationships.
Public trust above all.

While this sums up our strategic direction, I thought it would be valuable to share some questions we've received from various stakeholders that we want to be transparent about.
---
How are you implementing your new vision and values?
Our new vision and values are our guide stars. To bring them to life we are putting into practice a three-year strategic plan based on four goals:
We grow the philanthropic community through powerful, interactive engagement.
We lead by raising the voices of others.
We build a culturally strong and agile organization.
We drive a well-defined, bold impact agenda.

How are you changing the ways that Fundholders and community organizations engage with each other?
Since I started here in October 2016, we've been piloting different types of events to see how Fundholders and community organizations respond to different approaches. The objectives of these events are to provide learning opportunities for Fundholders, and for organizations to get meaningful time with donors. For example, we had great success with our CityViews Tour, where we took 25 Fundholders to four different organizations over the course of a day.
Our Vital Toronto event on June 13th took on a different format than previous years. We decided to give lift to our Spirit of Philanthropy Award. Our aim here is to shine the light on excellence in philanthropy. We had a record number of Fundholders attend, as well as a great number of our recent grantees, and other city-building leaders. We heard from many stakeholders that they found the format made it easier to meet and have conversations.
Part of having an impact in philanthropy is having access to good ideas and effective organizations. To put this straight into your hands, we just released our inaugural Good to Give Guide, which lists high-impact organizations we've reviewed (and in most cases funded) over the past several months. The point is to connect philanthropists to giving opportunities that may not yet be on their radar.

What's happening to the rest of your annual programs and projects?
Vital Signs remains our cornerstone, though it will be evolving. We want it to reflect the lived experience of those on the margins of our city, we want it to be bold, and we want it to inspire philanthropic action. New census data will be coming out in the fall, so we have scheduled the release of Toronto's Vital Signs for early 2018.
Instead, during the national Vital Signs week in October, we'll be hosting a series of Vital Conversations about the most pressing issues in our city. We'll be bringing together experts on the issues – including community members – and Fundholders around dinner tables across the city. There, we will dig deep and figure out how philanthropy can really help accelerate change.
Our Vital Ideas & Leadership and Vital Youth grant streams will run again in the fall for 2018 activities. That being said, we are working toward a more cohesive granting strategy. We are beginning the journey by working in partnership with the City of Toronto's new Chief Resilience Officer among others.

What are you doing to honour your commitment to the Declaration of Action on Reconciliation?
Early this year we signed the Philanthropic Community's Declaration of Action on Reconciliation, an initiative of The Circle on Philanthropy and Aboriginal Peoples. Toronto Foundation is on a learning journey that began prior, and we intend to continue well beyond 2017. I was recently in Ottawa with The Circle at Rideau Hall to meet with other funders to talk about how we might actually implement and be held accountable to the Declaration's written intent. We want to build relationships with Indigenous-led organizations and leaders in the city where there hasn't been one before, and work to heal the relationship between philanthropy and Indigenous communities where it has been broken. While we have begun by making some first-time grants to Indigenous-led organizations in the city, there is much left to learn and do.

If you have any questions, you can get in touch with me directly at 416-921-2035.

Sincerely,








Sharon Avery