HOME   >   ABOUT US   >   FINANCIALS
In 2021 we proudly established and launched our socially responsible investment strategy. We are committed to investing and growing our assets in pursuit of justice for people and planet. Our objective is to yield social and environmental progress without compromising financial returns. Read below for more on our approach to investing as well as detailed financials from 2021 or see the year's summary financials here.
INVESTING: Balancing social responsibility and stable returns
In January 2021 we brought on RockCreek (Canada) Advisor, Inc., as our new outsourced investment officer, to drive higher, more socially responsible returns. Monitored by our investment committee, RockCreek is diversifying our portfolio to facilitate more competitive returns while striving to meet our impact goals.
We prioritize stable investment returns over the long run, while maintaining the value of capital within acceptable risk parameters. This approach generates returns that enable fundholder grants and also cover administrative and philanthropic fees.
Targets:
Guided by our investment policy, we target an absolute real net return (after inflation and investment management fees) of an average of 4.5% per annum over a five-year period to cover granting and expenses.
By 2031 we're aiming to have 70% of the main pool portfolio in socially responsible investments, using a combination of intentional ESG investments and mission-aligned impact investments.
As of the end of 2021, 18% of our total assets are invested in socially responsible investment products and 0.09% of the portfolio is invested in fossil fuels.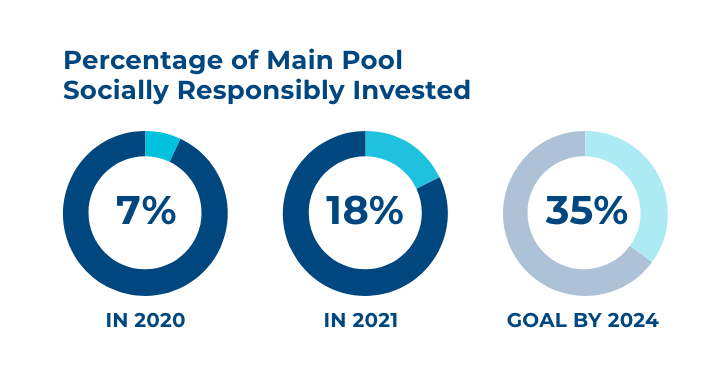 THE CONNECTION E-NEWSLETTER
Read the latest news, stories and insights on the city's needs and opportunities; organizations working on solutions; and how to get involved with your philanthropy.